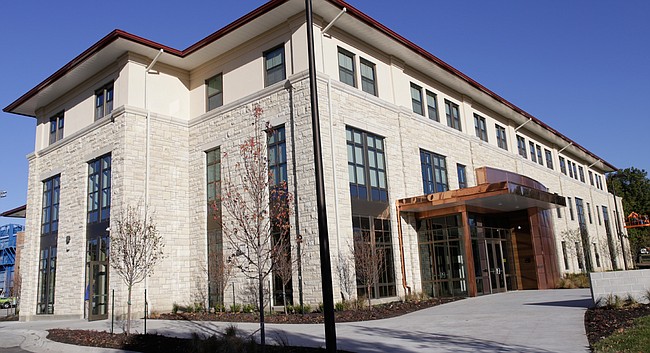 The Douglas County District Attorney's Office is seeking more testing in the case of a 16-year-old girl's alleged rape at the University of Kansas men's basketball dorm.
"In our review of that case, we have requested some secondary testing from the Kansas Bureau of Investigation. We are waiting on those results," Cheryl Wright Kunard, assistant to District Attorney Charles Branson, said Thursday in an email response to a Journal-World inquiry.
Wright Kunard said she could not estimate how long the additional testing would take, and she declined further comment on the nature of the evidence being tested.
In the meantime, the case remains under review by the district attorney's office, which will decide whether to charge anyone with a crime.
Wright Kunard previously confirmed that a suspect has been identified but said the district attorney's office would not disclose a name or further details.
KU police completed their investigation into the report and referred it to the district attorney on May 9, according to police records.
McCarthy Hall, 1741 Naismith Drive on the KU campus, is an all-male apartment building operated by KU Student Housing. The building houses about 40 students — roughly half KU men's basketball players and half upperclass, nontraditional or transfer students.
The rape of a 16-year-old girl, contributing to a child's misconduct and furnishing alcohol to a minor were reported to KU police the morning of Dec. 18, 2016. According to the police report, the crimes allegedly occurred between 10 the night before and 5 that morning at McCarthy Hall.
Police have said the 16-year-old, who was not a KU student and not from this area, was visiting residents in the building.
Also the morning of Dec. 18, a runaway was reported at McCarthy Hall. Police would not confirm whether the runaway and the alleged rape victim were the same person.
All five witnesses listed in the rape report are 2016-17 KU men's basketball team members. The report indicates police contacted three other people in connection with the case: a KU Athletics administrator and two 19-year-old women. A sixth men's basketball player is named as a witness in the runaway report, along with the same two 19-year-old women.
Police did not explain why any of those people were contacted in the investigations. Police did say that being a witness in an investigation does not necessarily mean an eyewitness to a crime, but rather someone who may have been in the area before or after or have other pertinent information.
Initially, the Dec. 18 police report also contained an allegation of possession of drug paraphernalia, but it was separated out and prosecuted independently from the other crimes.
In that case, then-KU basketball player Carlton Bragg Jr. — who coach Bill Self announced in April was leaving the team with plans to transfer in the off season — was charged in Lawrence Municipal Court with one count of possession of drug paraphernalia, a misdemeanor. Bragg received a diversion.
KU police said previously that there was no indication the drug paraphernalia was related to the sexual assault allegation.
Have a tip or story idea?
---
More stories