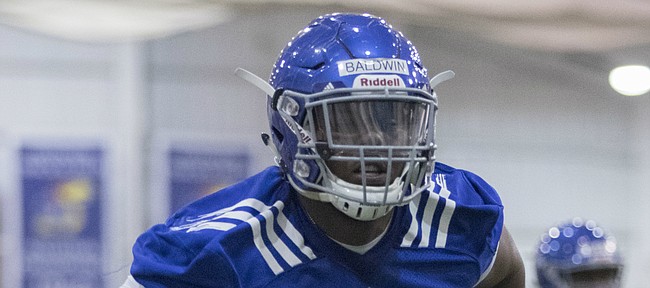 Sometimes, if it seems too good to be true, it's false.
As it turns out, that must have been the case with the attitude transformation of LaQuvionte Gonzalez, who consistently drew praise from coaches throughout the spring of 2016 and into summer conditioning. In the months leading up to the 2016 season, Gonzalez could barely contain his enthusiasm. Not only that, he appeared grateful for the opportunity to wear a Kansas uniform and play for his favorite football coach, David Beaty.
Then signs began to crop up. He blew off media obligations, which sometimes hints at one's immaturity. He went from bad to worse as a punt returner. As the going got tougher for him, he didn't get it going in the right direction.
In the end, he became just another example of a transfer who turned back into the same player who changed uniforms and not enough else to keep a spot on the roster. The speed he used to score three touchdowns last season will be missed, but not so much so, obviously, that Beaty could afford to keep him on the team. Beaty always had been Quiv's biggest backer, at Texas A&M; and Kansas. The coach no doubt will remain in Quiv's life, telling him what he needs to hear, even if it's not what he wants to hear. Obviously, he needed to hear he wasn't a part of the team anymore.
His dismissal calls into question the wisdom of taking too many transfers, especially those considered high-maintenance in the attitude department.
Alabama transfer Daylon Charlot, a gifted wide receiver and punt returner, drew high praise from coach Nick Saban, even after the Louisiana native left the program. Saban wanted him to stay and said he wished he had the patience to wait his turn to play.
Right tackle Charles Baldwin came to KU from Alabama under decidedly different circumstances. He spent one semester in Tuscaloosa, headed into spring football No. 1 on the depth chart at right tackle, was demoted and then tossed from the team for the vague "violation of team rules," which translates to "none of your business."
Baldwin was ranked the No. 1 junior college tackle in the nation, so talent never has been the issue. He has good feet for a man who stands 6-foot-5 and weighs 305 pounds. It wasn't his feet that got him the boot from Alabama.
Kansas starts fall camp Tuesday morning. When camp ends, the player most capable of inspiring exhales of relief is Baldwin. If he can bring a good attitude to practice on a daily basis, heed the warning of Gonzalez's dismissal that every athlete on campus should take seriously, then the developing offensive line has a shot to be adequate, despite its relative lack of experience. If Baldwin's the same player Saban ran out of the program, things up front can grow scary in a hurry. It's not that the coaches have said anything bad about Baldwin. It's just that they haven't said anything. He's not a player they talk about unless asked.
This coaching staff, more than most even, finds a way to talk up players who bring winning attitudes to practice, to the classroom, to life. Hakeem Adeniji, Jacob Bragg, Antione Frazier, Larry Hughes, Mesa Ribordy, Hunter Saulsbury, those O-linemen consistently inspire praise. Baldwin? Crickets.
Baldwin has a chance to be held up as a positive example by showing up at practice every day with the goal of working harder than anybody at his position and taking care of every other responsibility heaped upon college football players. It's a lot to juggle. Does Baldwin have it in him? If the answer is no, then he doesn't want to play in the NFL as badly as he thinks he does.