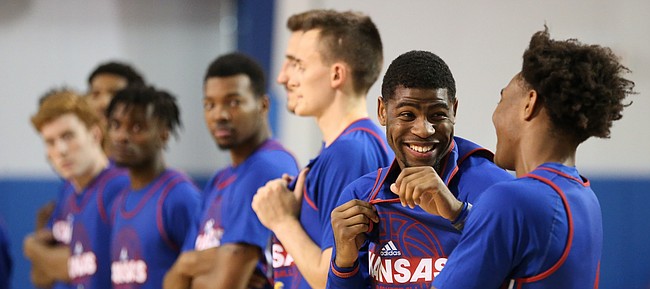 Having waited more than a full year for the opportunity to get back on the court and compete in a real game, one would think that Kansas transfer Malik Newman would be most excited about his own return ahead of this week's trip to Italy.
Instead, Newman is most looking forward to two much simpler things — bread and gelato.
"I hear that's what they're known for over there," the Kansas sophomore told the Journal-World a few days before the Jayhawks' Monday morning departure from KCI bound for Rome. "I thought people would say pasta, but I heard a lot about their bread and gelato and I'm looking forward to trying both."
Italian cuisine, of course, is not the only thing the Mississippi State transfer is excited about during the Jayhawks' upcoming overseas adventure. But Newman, like many of his teammates, definitely is putting the cultural experience close to the top of the list of things they're most looking forward to. For most Jayhawks, this week's trip to Italy — four days in Rome, four days in Milan, two games in each city — will mark their first trip to the land of the boot.
"It is kind of hard to believe it's here," Newman said. "But I'm excited about it, I'm glad it's here and I just can't wait to get on that plane. Whatever Italy has to offer, I'm ready to see it."
That includes the play of his teammates, who wrapped up their pre-Italy practices on Sunday before hopping on a plane.
Although Newman did not single out any specific player when asked who he was most looking forward to seeing, the 6-foot-3 guard admitted he was more than a little eager for the return of 7-foot center Udoka Azubuike.
"I'm very excited to see him play," Newman said. "I know he's excited about it. He had an injury so he had to take time off last year, but I know he's just excited about it as I am to get back on the court.... We have a lot of new faces that we're depending on this year and I'm kind of looking forward to seeing how everyone will play when it's us against someone else."
Asked how he thought Azubuike would do in his return to the floor, Newman did not hesitate to gush.
"He's actually looking better (than last year)," said Newman of one of the more interesting things to watch from the team's upcoming exhibition tour. "He's toned up, his post moves, he got his weight down some more, he's moving better, he's jumping higher and he's just in better condition right now. He's not in Big 12 condition, where we need him to be yet. But he's in good condition right now."
Regardless of exactly where the big and rapidly progressing Nigerian's conditioning currently stands, Azubuike figures to enjoy a significant size advantage over most, if not all, opponents this week. How he utilizes that and whether he shows enough discipline and poise to dominate likely will determine how impressive he is during this week's games.
Although there will be a plan of attack, KU coach Bill Self said most of the games will be coached and played by feel.
"We won't do a scouting report or go watch (opponents) play or study film or do anything like that," Self said. "We'll just go out and play. Of course, when you get over there it'll get competitive and we'll see who their best players are and what they like to do and stuff like that.... It won't be a pick-up game, but it'll be closer to a pick-up game than it will be a regular season game."