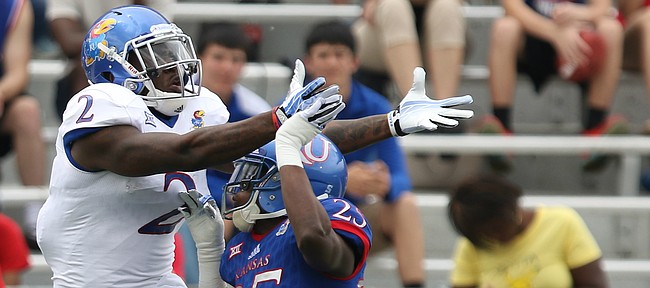 During their lengthy offseason, Kansas football players go more than three months without a practice.
That changes Tuesday, with the onset of preseason camp. The Jayhawks, though, aren't worried about coming in rusty.
Every week they were on campus this summer, team leaders made sure players convened every Tuesday for seven-on-seven competition — offense versus defense.
Junior KU quarterback Peyton Bender said players also got together less formally on Thursdays and Saturdays for extra seven-on-seven repetitions, amid all their regularly-scheduled and monitored strength and conditioning work.
The numerous sessions, Bender added, benefited the offense's chemistry.
While defensive backs and linebackers profited from the countless snaps spent covering receivers and running backs, the friendly June and July bouts meant even more for quarterbacks and receivers. Redshirt sophomore quarterback Carter Stanley said every time the groups got together both the passing targets and the quarterbacks throwing them the ball became more familiar with the details of specific routes.
"Obviously it's important because the coaches can't be out there," Stanley said of the strategic snaps that took place between the end of spring practices and the beginning of preseason camp. "So that's where some of the older guys, the older receivers — obviously us at quarterback — we need to really get the timing down and all of that."
The player-organized training not only allowed potential starters Bender and Stanley to stay in sync post-spring with top targets such as Steven Sims Jr., Daylon Charlot, Ryan Schadler, LaQuvionte Gonzalez and Chase Harrell, it also served as an introduction to KU's freshman skill players, who first arrived on campus in June.
Asked about any recent high school graduates who look like they can contribute, Bender said he liked what he saw during workouts from 5-foot-8 receiver Quan Hampton, from Texarkana, Texas.
"Shoot, all of them look good," Bender added, saying Derby's Kenyon Tabor, 6-foot-4, stood out, too. "All the freshmen are capable of playing. It's just who can be mature enough to handle what's being put on their plate with a college schedule and the type of schedule they're going to be going through during the season."
The star of KU's 2017 prep signing class, running back Dom Williams took part in the summertime reps, as well. Bender said the Jayhawks will learn much more about the four-star prospect from McKinney, Texas, during August practices.
"Dom, he looks good. It's tough to evaluate running backs in the summer, though, because there's no pads on us and we're just doing stuff on air. A lot of times they're just catching swing passes or going to the flats," Bender explained. "But he's definitely a back capable of doing what we want him to do."
Preseason practice schedule
The Jayhawks, most of whom have been on campus throughout June and July, officially report for preseason camp on Monday.
KU's first practice of the 2017 season is scheduled for Tuesday morning.
Over the course of the following three-plus weeks, the Jayhawks will practice every day of the week except Sundays, before adopting their typical game-week preparation schedule in the days leading up to their Sept. 2 opener versus Southeast Missouri State.