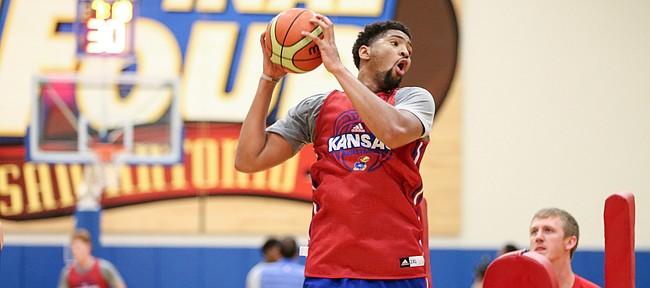 One day before his team boarded a plane for Italy, Kansas coach Bill Self revealed that the Jayhawks' flight overseas would be one body lighter.
Self said Sunday that transfer forward Dedric Lawson would not travel with the team for next week's four-game exhibition tour in Italy because of a recent incident in practice.
"Dedric is not gonna go on the trip," Self told reporters roughly 17 hours before the team boards its flight. "I've suspended Dedric temporarily because of an incident in practice. An altercation occurred and he didn't handle it well."
Self did not go into greater detail other than to say that Lawson was aware of how and why he did not handle himself well during the incident.
As a transfer from Memphis who is not eligible to play until the 2018-19 season anyway, Lawson's absence in Italy will not be a major blow to this year's team. Self said recently that he planned to play all of his newcomers in the four exhibition games against three different Italian teams this week and added that he would divvy up the minutes so that no player would have to wear himself out playing heavy minutes.
So Lawson not making the trip merely means the minutes for players like Udoka Azubuike, Mitch Lightfoot, Billy Preston and possibly even Lagerald Vick and Marcus Garrett, each of whom could play the 4 spot in a small lineup, would go up a few ticks each game.
Self made sure to point out that the punishment handed out to Lawson was temporary.
"He's on the team, he's in school, he'll be here whenever school starts and all that," he said. "But he's aware that he didn't handle the situation well so he's been suspended for the trip."
While the news is significant for Lawson, its biggest impact on the team itself might come in terms of KU now having one less body to put on the court. Considering that the Jayhawks will be playing in un-air-conditioned gyms and 100-degree heat, limiting minutes and avoiding cramps and such will be a focal point this week.
"It's a unique deal we're going to," Self said. "(Cramps) could be an issue, but I don't think the guys are gonna play enough minutes (to worry about that). Regardless of the situation, we're not going over there to play Devonte' (Graham) 35 minutes."
But what if a game is close and the competitive juices kick in at the end?
"Yeah, we'll try to win," Self said. "And hopefully they will be close games. But the close games could be making sure Udoka, Mitch, Billy and Marcus are in the game, too. Even though you're trying to win, you may want to have those guys in the game just to get them some more experience."
Self said Sunday's practice — the last of 10 pre-Italy practices allowed by NCAA rules — was "pretty good" and that practices overall had been "above average, not great."
"They seem excited to play," he added.
As for what the KU coach himself is most excited about during his first trip to Italy:
"The food's high on the list," Self said. "But I think seeing the Vatican and the Colosseum, to me, I'm thinking will be two of the coolest things we do. When we went to France I was blown away by some of that stuff. I'm sure this will be at least that plus some. And Lake Como, I'm really looking forward to spending a day there. They say that's about the most beautiful place there is."
The Jayhawks are scheduled to leave Lawrence just after 8 a.m. today and will depart from KCI around 11 a.m. Their flight into Rome is scheduled to land in Rome around 11 a.m. local time, which, is 4 a.m. central time.