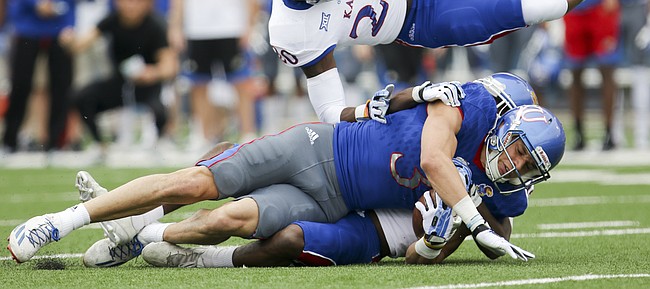 One minute he has a roof over his head and is looking forward to finishing his final high school football season, starting his final basketball season and graduating in the spring with his friends. The next minute, he, his mother and his brother are evicted from their home and he moves in with one of his football coaches on a temporary basis with no roots and no idea what the future holds.
The option presented itself to graduate high school a semester early, enroll in the University of Kansas and join the football team for the spring semester. The idea of having a roof over his head and meals provided for on a steady basis sounded pretty good to Chase Harrell. He already had earned enough credits to graduate, so he "took a little test" and was on his way to Lawrence.
"It was crazy," Harrell said. "I was in the middle of basketball season. I was learning basketball plays and all of a sudden, boom, I get thrown in here and I'm starting to learn a new offense because we had new coaches in. Coach Beaty was new. It was crazy. Looking back now, I could have finished my senior season, but I got sent here for a reason. I feel like coming early was a real benefit for me. I got ahead of the freshmen coming in and got to learn a little more."
At Kansas spring football practices in 2015, it wasn't difficult to pick out the player thrown out of basketball season and back into football season, and dropped into a new land with all new friends at the blink of an eye.
Harrell looked lost. He was big and fast and lost.
Now he looks like a football player, very much a member of the team, not a novice looking at the veterans in a state of awe, wondering how he'll ever catch up to them. Harrell had an impressive spring game that included a touchdown reception. He earned the praise of coaches and teammates during spring football practices.
That wasn't so during the spring of 2015.
"I had no idea," Harrell said. "I was just shocked by everything. This year, with playing a little last year, I'm more familiar with the offense, and the offenses (those coordinated by head coach David Beaty in 2016, new offensive coordinator Doug Meacham now) are similar."
Harrell, from Hargrave High in Huffman, Texas, is listed at 6-foot-4, 215 pounds. Beaty said at Big 12 Media Day that Harrell is closer to 6-foot-5, 225 pounds. Harrell has no visible body fat.
"When I first got here it was a whole scenery change, just very different," Harrell said. "Now I feel like I've matured. I can tell the difference in my body. I'm moving better in my route-running. I play a lot lower now. It's just been a whole transformation since I got here."
Harrell spent his first football season on campus as a redshirt. He caught five passes last season, averaged 17 yards a reception and scored a touchdown. He showed glimpses of potential.
"Chase Harrell is going to be big for us," predicted Daylon Charlot, a receiver who transferred from Alabama. "Chase is real big. He's physical. He's fast. I believe Chase can catch every ball that comes his way. He just has to put his mind to it."
Charlot supplied a specific area where Harrell needed to improve during the spring.
"I believe he can attack the ball more when it's in the air," Charlot said. "He's 6-4. I was telling him, 'If I was 6-4, I'd go up and get every ball.' I was telling him you can't be big and play small. You have to use your talent, go up and catch every ball."
Harrell brings more than size.
"He's real fast, real fast," Charlot said. "If he keeps working hard, he can be big this year."
Harrell quickly caught Meacham's eye.
"He's got a lot of length and speed. He's really tough and strong," Meacham said early in spring football. "We have to get him to have a little bit better body control at times. He's a good player. A lot of people would like to have him. It's hard to find long, fast receivers. And if you find them, everybody wants them."
Charlot, listed at 6 feet, and 5-foot-10 Steven Sims have plenty of speed as outside receivers. Given how many deep routes the outside receivers run on every play, even if just as decoys on some plays, capable receivers won't have any trouble getting playing time.
"You could always use more receivers," Meacham said. "Unless you're at Alabama, Florida or Notre Dame, you never have enough. We carry eight outside and six inside receivers on scholarship. We're three-deep at all four receiver positions."
KU coaches liked Harrell's potential from Day 1 but spoke about him in a way that suggested they didn't expect to see him on the field much until his third year, as a redshirt sophomore. That year has arrived.
Charlot predicts this will be the year Harrell becomes an impact receiver.
"He's real nice," Charlot said. "He's real cool. And he's really fast."