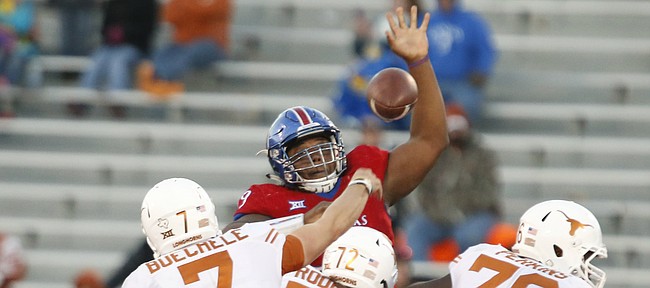 Up to a point, the defensive improvements shown by his Kansas football team in 2016 encouraged head coach David Beaty.
He still speaks some eight months later about how proud he was to see coordinator Clint Bowen's group lead the Big 12 in third-down defense and finish second in red-zone defense. Beaty raves, too, about KU's star defensive end, Dorance Armstrong Jr., leading the conference with 20 tackles for loss.
The head coach's usual enthusiasm, though, remains tempered by reality.
"The thing that we have to do is look at those other numbers that tell us things, like scoring defense," Beaty said after highlighting the unit's positives during a recent interview.
Indeed, the Jayhawks surrendered 37.3 points a game during Beaty's second year, contributing mightily to the team's 2-12 record.
"I still think that scoring defense is the most telling stat in all of college football," Beaty said of a category in which his Jayhawks finished the season ninth in the Big 12. "People talk a lot about turnovers and I do believe that — it changes lives. We talk about that all the time. However, scoring defense is huge, and our scoring defense number basically tells a story about how we've got to be better there."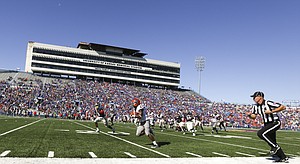 While Kansas excelled a year ago in areas such as third-down defense (first in Big 12, opponents converted 35.6 percent of the time), red-zone defense (second, foes scored on 77.4 percent of trips inside KU's 20-yard line), tackles for loss (tied for second, 7.5 a game) and takeaways (tied for fifth, 22 total), problems far outweighed advantages.
Along with the aforementioned struggles keeping foes out of the end zone, Kansas ranked ninth in the conference in rushing defense (236.6 yards allowed a game), total defense (456.3 yards), and pass efficiency defense (opposing QB's had 139.6 efficiency).
The conference's preseason Defensive Player of the Year, junior pass-rusher extraordinaire Armstrong, and his fellow KU defenders know they have a lot of ground to gain in a number of areas.
"We're capable of a lot of things. Our main goal is to just get better every day," Armstrong said. "I think as a team goal, we also want to become number one in a lot more categories than what we did last year."
Armstrong, redshirt junior defensive tackle Daniel Wise, redshirt junior linebacker Joe Dineen and sophomore safety Mike Lee give Bowen's defense not only experience, but reasons to feel optimistic.
In Wise's opinion, the defense as a whole has potential thanks to the presence of less-heralded players, too, such as defensive linemen Josh Ehambe, J.J. Holmes, Isi Holani, DeeIsaac Davis, linebackers Keith Loneker Jr., Osaze Ogbebor and Kyron Johnson, and defensive backs Hasan Defense, Shakial Taylor, Shaq Richmond and Shola Ayinde.
Said Wise: "Guys are hungry and ready to work."
KU proved this past season it could be effective on "money downs," as Beaty likes to call third-down situations, create some havoc in the backfield, force fumbles (12 recovered) and make interceptions (10). But he and his players realize that significantly cutting into the team's average of 37.3 points allowed could do wonders for making the Jayhawks more competitive in 2017.
"I love listening to Clint Bowen talk, because he's so methodical in his approach and he talks about that — about scoring defense and how we improved in this area but there were these big plays on second down that aren't in that stat line that we've got to be better at," Beaty said.
The challenge for KU, the head coach added, will be maintaining its defensive strengths while improving across the board.
"I'm looking for that group to not drop off in those areas that we improved on. But now let's improve to the top three to four in the conference in all those other areas," Beaty said, "and when you do that, I think you start seeing your win production change."