Overland Park — Golfer Chase Hanna certainly has a knack for making his birthdays memorable ones.
Four years to the day after winning the Kansas Amateur on his 19th birthday, Hanna burst onto the professional golf scene by making five birdies and one par on the first six holes of his debut Friday in the first round of the Digital Ally Open at LionsGate.
It was such a remarkable opening to a career that it begged the question: Had anyone ever started his pro golf career by carding five birdies in six holes?
"I don't know if there have been any who caught turf with their first tee ball either," said Hanna, who played the back nine first. "It was a good start, no doubt. That first hole was interesting, hitting a borderline shank off the tee, then making birdie, so that was a cool way to start."
Hanna finished with a 4-under-par 67 and was four strokes off the lead.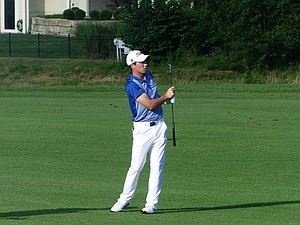 Fresh out of Shawnee Mission East and on the brink of starting his collegiate career for Kansas, Hanna defeated Sam Stevens to win the 2013 Kansas Amateur.
Hanna spent his 23rd birthday with another former Kansas golfer, Chris Thompson, who shot 2-under and is tied for 68th.
"Chris made it very comfortable for me, so that was nice," Hanna said.
Hanna made the field via a sponsors' exemption and Thompson made it by finishing in the top 25 of last week's web.com tour event in Omaha.
Six holes into their Friday round, Hanna and Thompson were a combined 9-under after Thompson stuck a beauty onto the 15th green and made the putt for an eagle and Hanna birdied the hole.
As they were compiling red numbers, fellow Jayhawk Gary Woodland was on fire at the Canadian Open, reeling off six consecutive birdies on the way to a 63 and is tied for second two rounds into the tournament.
Thompson and Hanna cooled down, but Woodland did not.
"I didn't think too much about it," Hanna said of his hot start. "I was just trying to make some birdies and kind of hit a stall there for a while. All the putts I was making just happened to be those first five birdies. And I'd say five of the easiest six holes were on that side."
As Hanna and Thompson walked down the seventh fairway, several spectators standing on the balcony of nearby house broke into a "Rock Chalk" chant.
Hanna, Thompson and Matt Mabrey had more spectators following them than most of the golfers, thanks to two of the three representing KU.
Hanna said he was particularly happy to see one face in the crowd.
"My parents and a lot of my friends were here and my grandfather was here," Hanna said. "He's the one who got me started in golf so it was nice having him here."
Jerry Eads drove in from Carthage, Illinois, for his grandson's debut. Hanna's parents are not golfers.
Hanna, Mabrey and Thompson tee off on No. 1 Saturday for the second round. Golfers who make the cut will play the third and fourth rounds Sunday.