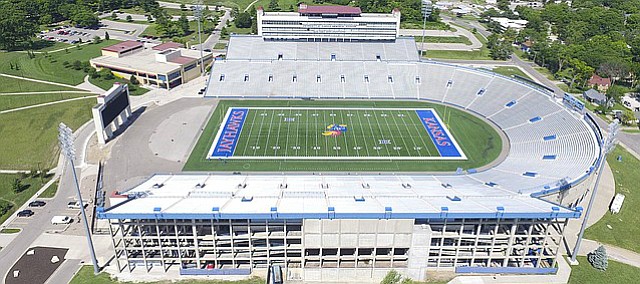 In ongoing efforts to revitalize the Kansas football program, no strategy looms larger than the planned $300 million renovation project for Memorial Stadium.
KU athletics director Sheahon Zenger appeared Wednesday on "The Program" with Soren Petro, in part to discuss the university's new partnership with 810 WHB. But he also took time to reflect on the stadium project, saying he has looked forward to the massive task at hand since arriving in Lawrence in 2011.
"I don't think there are words to describe just how big that is," Zenger said on WHB of renovations for KU's football facilities. "It's something that just absolutely necessarily has to be done. When I got here a number of years ago, it was at the top of my priority list, and it has remained there ever since. What I didn't realize when I came here ... was we also needed about seven other facilities before we could embark on that one, and we have been able to check those off."
The outfits Zenger referenced include Rock Chalk Park — home to KU track, soccer and softball, as well as Jayhawk Tennis Center — KU golf's Jayhawk Club, the DeBruce Center and McCarthy Hall.
Next, KU's athletic department will count on donations to enable a Memorial Stadium facelift and build a new indoor practice facility for football.
"We are ready for this. This is our all-encompassing campaign. This is what it's all about. The endowment association is on board with us. But at the same time, this is really the beginning," Zenger said. "There's a lot of work to be done between here and there. There's a lot of boxes to be checked on campus and then the state to make sure we're doing things the right way. And so I can't say a whole lot beyond that, other than just it's a time that I've waited for and this athletic department's waited for and certainly the football program."
Architect renderings of the project initially were expected to be unveiled sometime in September. But though a September reveal still remains in play, it's now possible the designs might not reach the public eye until October, a KU official told the Journal-World.
On WHB, Zenger didn't divulge much about how the stadium, which opened in 1921, will look different in the near future.
"I think it's the best location in the country in terms of the view of campus and just the college feel," Zenger said. "We'll do everything in our power to honor that and protect that legacy."
During a later segment on "The Program," third-year KU football coach David Beaty also discussed what lies ahead for the near-century-old stadium. Beaty emphasized "first-class facilities" have become prevalent throughout FBS.
"It brings us up to speed with what true Power Five looks like," Beaty said of the upcoming project. "We have a storied history, historical stadium right down here that's beautiful. If they didn't do a thing to it, it still would be one of the most beautiful settings in all of college football. However, it's a new day and age, and even she needs to be touched up. We need to make sure we get that taken care of and make sure our fans have a terrific experience, because our players are going to benefit from that, as well."
While Anderson Family Football Complex, home to KU's football offices, locker room and weight room, has been updated during the past several years — Beaty described it as "second to none" — the coach wants Memorial Stadium to reach that level, too.
"Now it's time to make sure that our fans have that same experience," Beaty said.