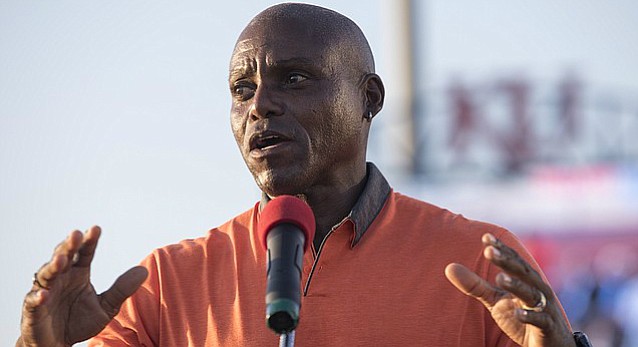 With thousands of athletes in attendance at Rock Chalk Park on Tuesday night, Olympic gold medalists Carl Lewis and Ashton Eaton sat on a podium ready to offer words of advice.
The scene at the opening ceremonies for the USA Track and Field National Junior Olympics was exactly what local officials envisioned when they worked to put the 2017 games in Lawrence.
"Five years ago we had a dream that if we would build this facility, you would come," Kansas athletic director Sheahon Zenger said. "And here you are.
"Thank you for helping us fulfill that dream today."
In short speeches, Lewis and Eaton told athletes to focus on their improvement throughout the week, whether it was winning an event or just trying to break their own personal records.
"I wouldn't be standing here if I didn't start as a 9 year old in youth track and field, said Lewis, a nine-time Olympic gold medalist, "and go to countries and compete."
Eaton, a two-time Olympic gold medalist and world record holder in the decathlon and indoor heptathlon, shared a story of when he nearly quit a workout, which he believed would have led him to quit track before the Olympics.
"I thought about this: What is the point of an injury?" Eaton asked. "What is the point of a setback? What is the point of a struggle? And everybody knows, 'Oh be tough. Fight through it.' OK yeah, we can do that, but the question is why?"
Beiter leads 4x800 team to 4th
After running in the girls 4x800 among 15-16 girls, Baldwin High junior Natalie Beiter compared the atmosphere to a Kansas state meet.
Beiter ran the first leg for the Kansas Flyers Track Club with a split of 2:27.81. The relay team eventually finished fourth in 9:49.07.

"So many girls in this, so many amazing runners," Beiter said. "You feel small. You just have to jump over that hill and keep going."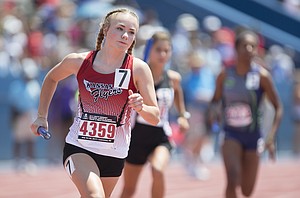 Beiter said she competed in the Junior Olympics when she was 11 or 12 years old, but wanted to return this year with the national championships in nearby Lawrence.
Thomas places 13th in heptathlon
Waiting to make her final throw in the javelin Tuesday, Free State senior Cameryn Thomas overheard some advice from another competitor's coach.
"He told her to keep her arm up and do a couple of things technically," Thomas said, "and that helped a lot."
After watching the javelin sail through the air, Thomas cracked a smile once the nearby scoreboard flashed the distance: 100 feet, 5 inches. Her group of supporters in the crowd responded with a loud cheer.
Thomas placed 13th overall in the women's heptathlon among 17-18 year olds, scoring 4,114 points.

"I made up a whole bunch of points and I came back a little in the competition," said Thomas, who was sitting in 16th place after Monday's events. "I was really happy with that."
Schoenberger competes in triathlon
Leo Schoenberger, a fourth grader at Baldwin Elementary-Intermediate Center, tied for 20th in the 9-10 year old boys triathlon, which is a multi-event competition involving the high jump, shot put and 400-meter run.
In the shot put, Schoenberger placed 16th with a throw of 17 feet, 11.75 inches. He was 16th in the 400 (1:16.36) and tied for 22nd in the high jump (3-5.25), totaling 359 points.
Lawrence fourth grader runs in 4x800
Lawrence native Cyrenity Hardy, who is entering the fourth grade, ran in the 11-12 year old girls' 4x800 relay with KC Storm Track Club.

Hardy's team finished in 22nd place with a time of 12:20.63.