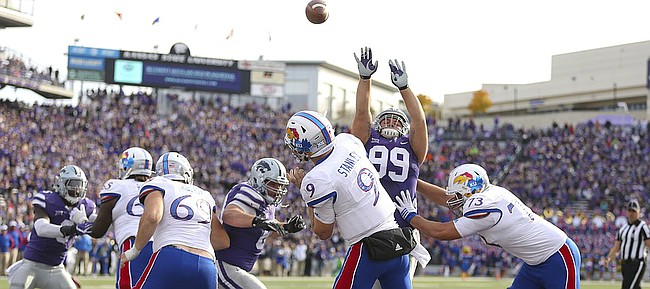 Head coach David Beaty says he is in no hurry to name the Kansas football team's starting quarterback for the quickly-approaching season. When that declaration comes, though, Beaty will be glad to have in a backup role whomever finishes second between junior transfer Peyton Bender and redshirt sophomore Carter Stanley in a backup role.
Sure, the Jayhawks need either Bender or Stanley to emerge as a clear No. 1. But in the violent game of football, a capable reserve can be just as critical as a surefire starter.
"The greatest thing about them right now is they're both healthy," Beaty said this past week of Bender and Stanley
If his time working in the Big 12 has taught KU's third-year coach anything, it's the value in having more than one "quality" quarterback going into a season.
"If you look at the past, you've got to have two, because somebody is going to get hurt," Beaty explained. "Almost every one of our teams in the conference has had to use more than one, because of injury. So being able to have two is big."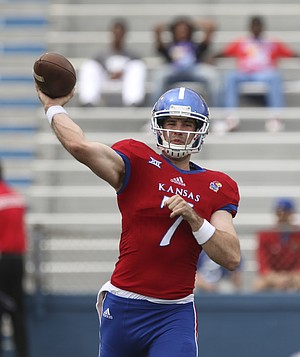 In 2016, Kansas used a pair of quarterbacks — Montell Cozart and Ryan Willis, both of whom transferred out of the program after the season — but that was a case of neither separating himself as a definitive starter. When Beaty expresses the value of a QB duo, it's because he has empirical knowledge of how useful a second-stringer with some first-string skills can be.
In KU's Big 12 opener at Texas Tech this past year, the Jayhawks weren't able to gain a competitive advantage when the Red Raiders' future first-round draft pick left the game due to injury.
"We played Kliff (Kingsbury, Tech's coach) and those guys last year, and one of the best players I've ever played against in my life is Patrick Mahomes. And we knock him out and it turns out that's the worst thing we could've done, because (Nic) Shimonek came in and just destroyed us," Beaty said, referencing the 271 yards and four touchdowns worth of damage done by Tech's No. 2 QB. "Just got the ball out quick and did a terrific job. We got to learn how good that guy was firsthand. Did a great job."
Beaty long has praised Tech's version of the Air Raid offense for a number of factors. The system's overall effectiveness — regardless of personnel — is just one example. After KU scored only 20.2 points a game in 2016 (last in the Big 12), Beaty and new offensive coordinator Doug Meacham aim to get the Jayhawks as close as possible to Texas Tech's level of production (43.7 points a game).
Kansas won't have an NFL first-rounder such as Kansas City's Mahomes lined up in shotgun this fall. Beaty just expects he will have more than one competent quarterback.
"In the league, you have to have a couple of them to be ready," he said, "because it's a physical league."