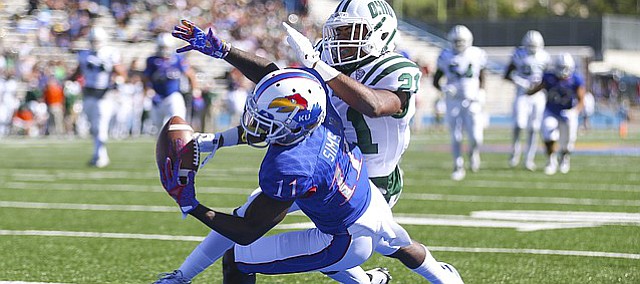 When third-year Kansas football coach David Beaty makes a public appearance or fields questions from reporters, he often finds himself on the topics of KU's quarterback competition and/or the program's current star defensive linemen, Dorance Armstrong Jr. and Daniel Wise.
When Beaty considers the Jayhawks' roster for the upcoming season, though, the talent at another key position group gets him characteristically fired up about KU's potential.
In Beaty's first two seasons at Kansas, the offense rarely produced enough first downs or scoring drives to keep pace in the Big 12. But he says new offensive coordinator Doug Meacham will have more weapons to deploy in 2017, thanks to an abundance of receivers.
Whether it's junior transfer Peyton Bender or redshirt sophomore Carter Stanley who wins KU's quarterback job, the head coach expects them to have an array of targets.
"There's no doubt. The depth that we have at receiver right now I'm cautiously optimistic about," Beaty said this past week at Big 12 Media Days. "We have a lot of really talented players out there."
Formerly a co-offensive coordinator at TCU, Meacham told Beaty when he arrived at KU he was surprised at the amount of skilled receivers.
"I mean you've got guys who may have played a lot last year, they may have a hard time getting on the field this year," Beaty added.
One player who won't fall in that category is Steven Sims Jr., KU's leading returning receiver. In Sims' sophomore season he caught 72 passes for 859 yards and seven touchdowns — all team-bests.
"Steven Sims is a guy who I think is a very talented guy in this conference. 'Meach' feels the same way," Beaty said.
Over the course of the past several months, Beaty also has enjoyed watching the development of sophomore Daylon Charlot (who transferred to KU from Alabama and sat out this past season), junior returning players Ryan Schadler and Jeremiah Booker, junior college transfer Kerr Johnson Jr., and redshirt sophomore Chase Harrell, whom Beaty said is close to 6-foot-5 and 225 pounds.
"He has really worked himself into a factor for us," Beaty said of Harrell.
The head coach got so fired up talking about the group, he almost left off the Jayhawks' No. 2 receiver from a year ago: LaQuvionte Gonzalez, who contributed 62 receptions, 729 yards and three touchdowns as a receiver.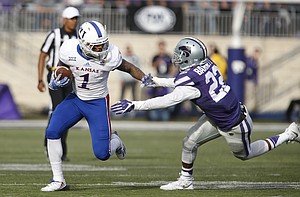 "I didn't even mention him, because these other guys really have shown up for us," Beaty explained of momentarily overlooking the senior Gonzalez, as well as senior Bobby Hartzog Jr.
Encouraging Beaty on the receiver front, as well, has been an incoming freshman: receiver and potential tight end Kenyon Tabor, an in-state recruit from Derby.
"That guy's a really good player," KU's coach said of Tabor. "Been fun to watch him."
Four-receiver sets will be a staple of KU's Air Raid offense this fall, so Beaty and Meacham won't mind having so many options.
"We're excited to see who wins those jobs," Beaty said.