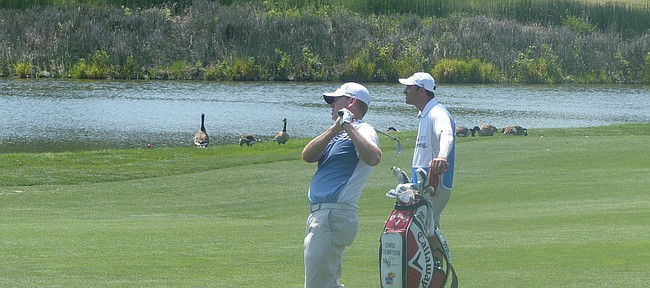 Omaha, Neb. — Same man, same putter, same caddie, same greens. Couldn't miss Saturday, couldn't make one Sunday. It even happens to men so skilled they make their livings playing golf.
Lawrence resident Chris Thompson, two-time All-American during his days at University of Kansas, can attest to that.
Thompson had seven consecutive one-putt greens Saturday on his way to shooting 29 on the back nine of the third round of the Pinnacle Bank Championship. He didn't make a putt longer than four feet Sunday on his way to a 2-over par 73.
"Crazy, the difference in golf," Thompson said. "I probably had the best putting day of my life yesterday and today I can't think of one worse. Pretty frustrating day."
Thompson entered the field via a Monday qualifier and entered the final round tied for sixth. He finished it tied for 23rd at 7-over par. His top 25 finish earned him an automatic berth in this week's Digital Ally Open at LionsGate in Overland Park.
"I guess it's somewhat of a silver lining, but obviously it's not going to make a difference if I putt like that, so it doesn't make me feel any better," Thompson said. "Frustrating day."
Had he duplicated the 66 he shot Saturday on Sunday, Thompson would have finished alone in second in the tournament won by Sam Ryder by eight strokes at 21-under par.
Thompson left many of his lag putts way short, but said it was not a case of the greens slowing down from one day to the next.
"I just wasn't hitting the putts solid," he said. "I started off pulling a few (putts) and lost a little confidence. It wasn't a great effort."
He can thank his effort on the course's three par-5 holes for not having to play in a Monday qualifier to get into next week's tournament. Whereas many players younger than Thompson, 41, laid up, Thompson went for the green each time. He twice hit the green and was pin-high to the left on the other. He birdied all three holes.
To get an idea of how crisply Thompson strikes the ball, consider his club selections and distances on those three shots into the green: He hit a 6-iron from 210 yards, a 4-iron from 230 and a 5-wood from 255.
His 5-wood on No. 15 drew beautifully onto a shallow green with bunkers in the front and back and left him with a pin-high, 13-footer for eagle.
"That was my favorite shot of the day," he said of the 5-wood that awed the gallery sitting and standing on the hill behind No. 15. "I felt like if I could have made that putt I could have gotten some momentum. It was so frustrating missing makeable putts on every hole for 15 holes."
After that birdie, Thompson made bogey on two of the final three holes.
"I thought the course played pretty hard out there, but on this tour it doesn't matter," Thompson said. "Everybody still shoots low. You just can't have putting days like I had today."
Thompson made $4,997 in the tournament, giving him $23,797 in earnings in the three web.com events in which he has played this season.