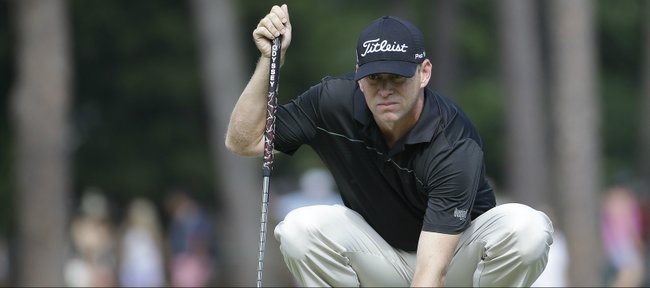 Former University of Kansas All-American golfer Chris Thompson started the third round of the web.com tour's Pinnacle Bank Championship in Omaha in atypically poor fashion and more than made up for it with a spectacular finish Saturday.
Thompson fired a 29 on the back nine to finish with a 66 on the par-71 Club at Indian Creek. He had seven consecutive one-putt greens and fell one revolution shy of an eighth when his 20-foot, downhill putt on No. 18 came up just short, according to caddie Brad Ziegler.
On holes 12 through 16, Thompson carded birdie, birdie, birdie, eagle, birdie. He reached the 573-yard, par-5 15th in two and drained a 15-foot putt for eagle.
His day started bogey, bogey, bogey, as he fell to close to 60th. After his birdie on 16, he momentarily held a share of the lead.
Thompson enters today's final round in a six-way tie for sixth place at 9-under, one stroke out of a tie for second, and eight strokes behind leader Sam Ryder.
In other golf news, Chase Hanna, who ended his KU career in style with a strong senior season that included winning the Big 12 individual title, was eliminated in the semifinal round of the Kansas Amateur by Gage Ihrig of Goodland, 2 up. Ihrig faces Sam Stevens of Wichita in today's 36-hole final match.