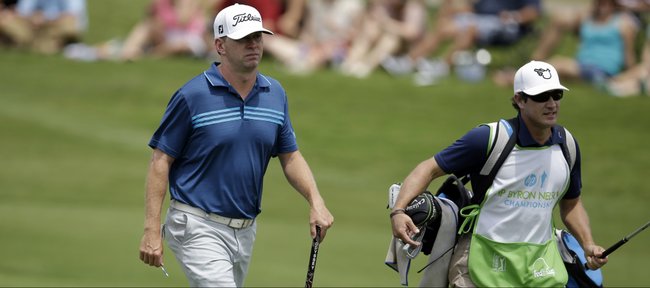 Chris Thompson shot a 3-under par 68, good for a tie for 26th place in the first round of the Pinnacle Bank Championship, a web.com tour event Thursday at The Club at Indian Creek in Omaha.
Thompson, who birdied 15 and 17 to get back the two strokes he lost with a double-bogey on No. 9, sits four strokes behind leader Tom Lovelady. Thompson also made birdie on the first two holes and on No. 6 to start his day 3-under par.
Thompson made the field via a Monday qualifier, as did his former Kansas teammate Ryan Vermeer, who shot 76 Thursday.
Chase Hanna, reigning Big 12 champion, missed qualifying for the web.com event by one stroke and is one of many former KU golfers who made the field in the Kansas Amateur.
Hanna was low medalist in the two rounds of stroke play in the Kansas Amateur and therefore entered the 64-man match play as the No. 1 seed. He carded 67-67 on par-70 Kansas City Country Club.
Current KU golfers Charlie Hillier of New Zealand (No. 2 seed after rounds of 67-68) and Andy Spencer (No. 7, 72-66) also played well. Former KU players Conrad Roberts of Lawrence (74-71, No. 38) and Sean Thayer of Garden City (74-75, No. 64) also qualified for match play. Thayer was one of two golfers (Brian Fehr of Manhattan the other) to survive a five-man playoff for the final spots.
Will Gantz of Perry (71-71, No. 17) and Bradley Lane of Lawrence (76-71, No. 53) also advanced to match play.
The field was pared to 32 Thursday when 9 of 32 matches required extra holes. Hanna defeated Thayer 3 and 1; Spencer defeated Jacob Bishop of Edmond, Okla., 2 and 1; Roberts won his match, 4 and 2; Gantz won his in 19 holes; Lane won his in 19 holes; Hillier won his in 20 holes; and Spencer won his in 19 holes.