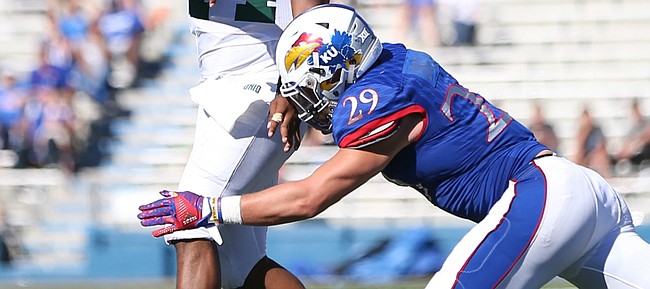 The statistics say Joe Dineen had a productive sophomore season, but he's serious enough about becoming a better football player than to let numbers tell the story.
Injured early in the fourth game of last season, Dineen kept his year of eligibility and will compete as junior this season, two years removed from his sophomore year and 20 pounds of muscle heavier.
He finished second on the team in tackles (86), tackles for loss (9.5) and sacks (three) in 2015.
"I want to make more tackles in the backfield," Dineen said. "A lot of tackles my sophomore year were down the field, me running down guys. They're important, but they aren't as important as TFL's and sacks."
Even if he doesn't make the stops in the backfield, he can have a role in sending the opposing punter onto the field more often by making stops closer to the line of scrimmage. In 2015, Kansas allowed 5.67 yards per rush, 123rd among 128 FBS schools.
Last season, Kansas improved, allowing 5.17 yards per rush, 106th in the nation.
With Dineen back and the depth improved at defensive tackle and linebacker, cracking the top 80 seems like a reachable goal.
Even though Dineen missed playing 75 percent of last season, his brain was tuned in for the entire season, so the time wasn't wasted. He knows the key to becoming a better linebacker and is confident he'll make it happen.
"Something I can do to get there and I have done is play more instinctually," Dineen said. "The year of experience behind that helped. Now I don't have to focus as much on what I'm doing. I can focus more on what the offense is doing. If they show a certain look I can start to see things to where I instinctually can know what's coming. Teams have habits and if you can pick out the habits it definitely helps."
As football knowledge takes root, he finds himself thinking less, reacting more. He explained how physical expansion can help him make tackles closer to the line of scrimmage as well.
"I played my sophomore year at probably 210, 215," he said. "Now I'm 230, 235, right in that range, and I don't feel any slower. I was at this weight when I ran my best 40 time. It will help big-time getting off blockers and even just getting guys down, the big, physical running backs, 210's just not going to cut it where I play. The weight has helped a ton."
Dineen spent much of his freshman season as a reserve running back, switched to safety late in the season and then switched to linebacker, a permanent home for the former Free State High quarterback and safety.
He was one of four Jayhawks brought to Frisco, Texas for Big 12 football Media Days and the only one making a return trip.
He noticed more traffic at the KU tables than a year ago.
"Even walking around here, there definitely is more of a buzz around Kansas football than since I've been here," Dineen said in Frisco. "I think the Texas win has something to do with it, but I also think with a 2-10 team, Dorance (Armstrong) getting named preseason Big 12 Defensive Player of the Year shows that we didn't have a good record, but we still have guys who can play. If we all come together we have the talent to win and that Texas win proved it. If we just come together we can get it done."
He said he sees the team meshing better than ever, perhaps a function of increased experience.
"There is more leadership," Dineen said. "We've got a lot of guys who are willing to step up and push other guys. It used to be if a guy missed a workout or a guy just messed up it would get pushed to the side and you wouldn't really confront it but now it's leadership and we hold guys accountable and guys don't need to be held as accountable."
In other words, a year of maturity has translated to fewer players stumbling and better policing of those who do mess up.
"Just from summer workouts everyone seems more motivated and on the same page than maybe years in the past," he said.
Beaty chose Hakeem Adeniji, Armstrong, Dineen and Daniel Wise to represent KU at the conference media gathering because of their play and leadership.
"Joe is a big-time leader for us," Beaty said. "He might be the guy I would look to over everyone if I needed someone to take over. Same with Daniel Wise, Jeremiah Booker. We've got a lot of guys showing good leadership."
The better an athlete plays, the more teammates will follow him. Dineen knows that and knows what he needs to do to play better. He's always been one to give himself the best shot at success.