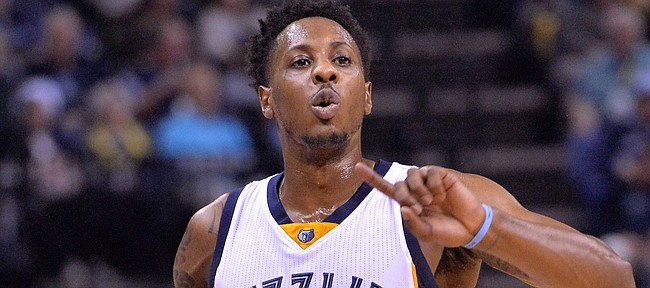 In June, while back in town for Bill Self's basketball camps and the annual Rock Chalk Roundball Classic, former Kansas guard Mario Chalmers said he said he was in search of the "right fit" for him in his quest to return to an NBA roster.
Tuesday, Chalmers found that fit, agreeing to a one-year, partially guaranteed deal with the Memphis Grizzlies for the 2017-18 season, according to a report from ESPN's Adrian Wojnarowski.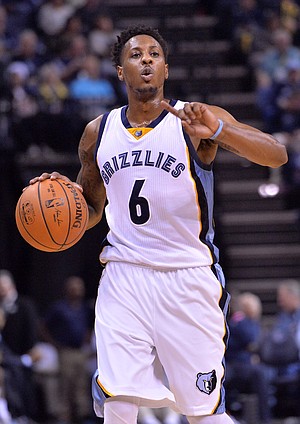 The upcoming stint will mark Chalmers' second go-around with the Grizzlies, with whom he played and enjoyed success during the 2015-16 season following a successful seven-year run in Miami in which he won a pair of NBA titles with LeBron James and Dywane Wade.
Traded away to Memphis in 2015, Chalmers averaged 10.8 points and 3.8 assists per game while playing behind starter Mike Conley and took on a heavy leadership role during 55 games with the franchise that season.
The run ended in March of 2016, when Chalmers ruptured his Achilles' tendon, an injury that sent him to the sideline and rehab for the entire 2016-17 season. According to Chalmers, his first game of any kind since then came in June when he joined a few fellow former Jayhawks in scrimmaging the current squad at Self's camp and Chalmers said then he was eager to return to the NBA.
It was when he was asked if he wanted to compete for a starting role or if he would be comfortable as a back-up that Chalmers said he merely was concerned about the right fit and, evidently, he believes he has found it in Memphis.
Chalmers, 31, likely will be the Grizzlies' third point guard, behind Conley and a either Andrew Harrison, Wade Baldwin IV or rookie Kobi Simmons. All three players are 22 or younger, which should give Chalmers and his veteran status an opportunity not only at playing time but also at picking up where he left off as a leader.
In Memphis, Chalmers also will join a pair of former Jayhawks in Ben McLemore and Wayne Selden Jr., both shooting guards who signed with the Grizzlies this summer.
More like this story on KUsports.com