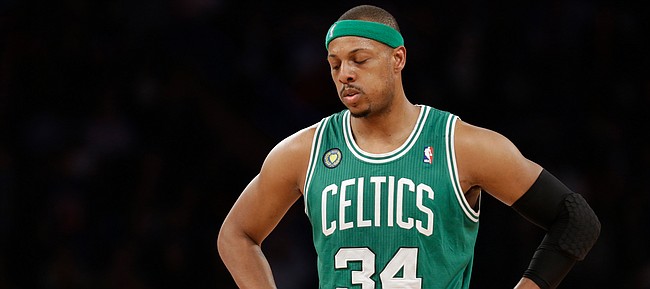 Former Kansas great Paul Pierce, who recently wrapped up a stellar, 19-year NBA career, on Monday signed one last pro contract designed to enable him to go out with the team he came in.
Pierce, who spent 15 of those 19 seasons in Boston, signed with the Celtics one last time, for one day, giving him the chance to retire in Boston green.
"We're honored that Paul has chosen to retire as a Celtic. He is among the very best Celtics – a champion on and off the court," Celtics governor and managing partner Wyc Grousbeck said in a press release. "We congratulate Paul on a Hall of Fame career, and look forward to seeing his number raised to the rafters of TD Garden."
After being selected No. 10 overall in the 1998 NBA Draft, Pierce played for Boston from 1998-2013, finishing first all-time in 3-point field goals (1,823), free throws (6,434) and steals (1,583), while also placing as the Celtics' second all-time leading scorer with 24,021 career points.
Pierce also retires in the organization's Top 10 lists in games played (1,102, 3rd), minutes played (40,360, 3rd), field goals (7,882, 3rd), field goal attempts (17,630, 2nd), 3-point field goal attempts (4,928, 1st), free throw attempts (7,979, 1st), offensive rebounds (1,008, 8th), rebounds (6,651, 7th), assists (4,305, 5th) and blocked shots (668, 4th).
"It's an honor to have this opportunity to once again call myself a Boston Celtic," Pierce said in the release. "The organization and city took me in and made me one of their own, and I couldn't imagine ending my career any other way. I'm a Celtic for life."
Nicknamed "The Truth" during his third NBA season, Pierce went on to become just the third player in Celtics history to be named NBA Finals MVP during his first appearance in the Finals (2008).
During his 19-year NBA career, Pierce averaged 19.7 points (44.5 percent FGs, 36.8 percent 3-pointers, 80.6 percent FTs), 5.6 rebounds, 3.5 assists, 1.31 steals and 34.2 minutes in 1,343 games (1,285 starts) with Boston, Brooklyn, Washington and the LA Clippers.
He ended the 2016-17 season as the only active NBA player with at least 25,000 career points, 7,000 rebounds and 4,500 assists.