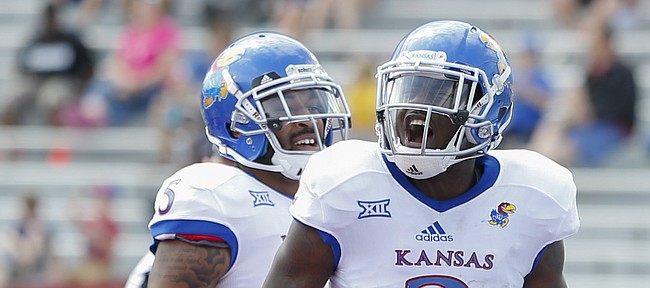 Frisco, Texas — As head coach David Beaty, preseason Big 12 Defensive Player of the Year Dorance Armstrong Jr., and his Kansas teammates Daniel Wise, Joe Dineen and Hakeem Adeniji prepare to spend most of their Monday discussing the program at Big 12 Media Days, the Jayhawks' Sept. 2 opener versus Southeast Missouri State — and the end of college football's lengthy offseason — feels closer than ever.
Preseason camp will commence the first week of August, and before they know it players and coaches will finally find themselves in the midst of the long-anticipated 2017 season, when they plan to build upon last year's progress and post a record superior the 2-10 mark of 2016.
The Jayhawks, junior quarterback Peyton Bender mentioned during a recent interview, received a rare week off coinciding with Independence Day. When Bender and his teammates returned to Lawrence to get back to KU's offseason strength and conditioning work with coach Zac Woodfin, the quarterback realized, "We're here now until the end of the season, so we're really gearing up and ready to get it rolling."
For Bender and fellow quarterback Carter Stanley, a redshirt sophomore, the start of practices in a couple weeks also means they are that much closer to the finish line of their ongoing QB competition, which began when Bender enrolled in the spring.
Stanley said June "flew by," and it really hit him a few weeks back how much more intense and relevant every moment of preparation feels.
"All right, we've got 10, 11 more workouts until (August) fall camp, and that's when it's going to be decided," Stanley said of KU's starting quarterback job.
A key target for whomever lines up at QB this fall, sophomore receiver Daylon Charlot also can't wait to get these summer months behind him. After sitting out 2016 as a transfer from Alabama, the 6-foot playmaker said in a recent appearance on KLWN's Rock Chalk Sports Talk he's eager to make his KU debut.
"I'm very excited. I can't wait," Charlot said. "We're growing as a team and I'm growing as a player. I'm just working on everything to get prepared to have a great season."
KU football culture shift
The team's veterans, too, feel enthusiastic about the possibilities for Kansas in the months to come.
Fifth-year senior tight end Ben Johnson, recruited by Charlie Weis and his staff, has been with the program since 2013, his redshirt year after graduating from nearby Basehor-Linwood High.
Asked on KLWN to compare and contrast the state of KU football now versus when he arrived in Lawrence, Johnson, who has seen the Jayhawks go a combined 8-40 over the course of the past four seasons, explained how he views the culture moving in a better direction.
"It hasn't been easy being here throughout what we've gone through," Johnson said, "but it's definitely changing. And I can just feel the vibes, especially with what Coach Woodfin brings to the table. He's helping us a lot."
Sophomore safety Bryce Torneden said the players feel confident Kansas can keep improving this year.
"I just really think we're a program that's obviously on the rise," Torneden said on KLWN. "We've got a fresh, new coaching staff, some hot recruits obviously. I just think the feeling around here is just a lot of positivity and that we're just going to turn things around — and why not be a part of it. That's exciting."