When Alvamar Country Club turned 25, Matt Gogel was a member of the University of Kansas golf team. When it turns 50 under a different name next year, he'll take pride in being a driving force behind its facelift.
The former Alvamar, known as the Jayhawk Club since February, is changing far more than its name and is in the middle of a much-needed transformation. What once was a 36-hole complex with a public and private side and an off-site pool, is being revamped into a 27-hole, all-private club with a resort-like swimming pool, a wellness center, luxury condominiums, and a state-of-the-art, indoor-outdoor practice facility for the men's and women's Kansas golf teams.
Gogel, formerly a touring pro who finished tied for second in the Pebble Beach Pro-Am in 2000, fitied for 12th at the U.S. Open in 2001 and won the Pebble Beach Pro-Am in 2002, now works as a golf broadcaster for NBC and the GolfChannel.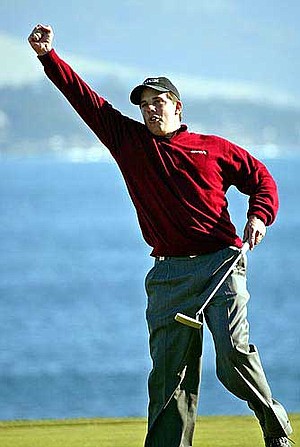 He recently become a business partner in the Jayhawk Club with Lawrence developer Thomas Fritzel, who knows how to make beautiful buildings and swimming pools but is not a golfer. Gogel's involvement has calmed the nerves of members who feared Fritzel would cut corners when it came to the final and in the eyes of golfers most important piece of the puzzle, the actual golf course.
Mike Gogel, Matt's brother, runs an Arizona-based golf-course architecture firm and is heading up the design of the new 18-hole championship course. The front side of Alvamar private remains in tact as an auxiliary nine holes.
Gogel, who was on the search committee that recommended Kansas golf coach Jamie Bermel, has been instrumental in donating and getting other former players to join him in raise funds for the new practice facility. That led him to first call Fritzel in Dec., 2015.
"I was curious where his plan was and where KU was going to practice," Gogel said by phone during a break from his broadcasting duties at the John Deere Classic in Silvis, Illinois. "That was kind of the beginning of me meeting with Thomas."
A year later, Gogel said he sat in a truck talking with Fritzel about the project, liked the apartments he saw going up, loved the idea of a wellness center and became interested in becoming a major investor. But it was just a concept at that point.
The credit for getting him and Fritzel to talk more seriously about a partnership, Gogel said, belongs to KU associate athletic director Sean Lester.
"He put us together in his office in February and said, 'OK, let's figure this out.' I told Thomas I didn't want to be involved just as a golf-course owner, just the golf operations," Gogel said. "I wanted to be involved in a partnership as a whole."
It took attorneys from both sides, "about four months," to work out the details. The previous plans for the redesign and a few greens in the construction stage were scrapped and Matt's brother, Mike Gogel of Phoenix-based Mike Gogel Design, was brought on to head up the design of the championship course.
The swimming pool and clubhouse already have opened to rave reviews from members and the golf course could be completed as soon as May 1, 2018, if ideal weather conditions fall into place, Gogel said.
"Bob Billings' vision 50 years ago was great," Gogel said. "A public course and a private course, a swimming pool, tennis. He was a real visionary. I don't think any other college town was doing quite what he did."
In recent years, maintenance costs made it difficult to keep the course and facilities in the sort of shape it had been in previous decades.
"It had gotten very tired," Gogel said. "I hadn't been up there in 20 years."
Upon his return, it saddened him to see his alma mater's home course fall into disrepair.
"The public clubhouse, well, we know what it was, the parking lot was beat-up, trees had started to over-run the courses," he said
Initially, Gogel said, Fritzel "wanted it cleaned up but didn't want to spend a lot of money on it because he didn't see the value."
Gogel shared his honest opinion that the initial plans, which included changing some greens but not others because of budget restrictions, would not result in a great golf course.
"I think that got his attention because the Fritzels want everything they build to be top quality," Gogel said.
Can the Gogel brothers produce a golf course that can match the quality of the rest of the development?
"I'm very confident that we can," Matt Gogel said by phone during a break from his broadcasting duties at the John Deer Open in ohn Deere Classic in Silvis, Illinois. "The (public) course was a really good golf course. Now it's going to be great."
Gogel said he expects the course will become a site for Big 12 championships, NCAA regionals, perhaps even NCAA finals.
The removal of so many trees has led some to wonder whether the new plan calls for a links-style course. Not the case, Gogel said.
"It will be a traditional Midwest golf course," Gogel said. "We were all on the same page with that. This isn't the Pine Hills of North Carolina or the coast of Northern California."
In this region of the country, the beauty comes in part from the native grasses that shape holes and keep maintenance costs under control.
"The native fescue is off the playing areas, 30 yards away from fairways that will give it that prairie look," Gogel said. "My brother and I are on the same page that every hole should have a different look and feel and all should have strategy involved.
Some of the holes will be all new, others redesigned, and all 18 greens will be constructed from scratch, Gogel said. For the first six holes, tentatively scheduled to open as soon as October, according to Jayhawk Club general manager Wes Lynch, the greens will be sodded. The remaining 12 holes will be seeded with the same grass, specifically "Bentgrass T-1," which according to marketing material for the product, "retains ground coverage under some incredibly tough growing conditions."
From the back tees, aka the Jayhawk tees, the course will play 7,100 yards and will be a par 71 with four par-5 holes and five par-3 holes. The other three sets of tee boxes will be much shorter than the Jayhawk tees.
"Unfortunately, it's not as walkable as I'd want it to be," Gogel said in part because a 38-million-gallon-reservoir in the form of a pond will create a long walk from the first green to second tee box. The reservoir will be used to irrigate the course.
Gogel said that after studying all the factors, he became convinced it would become a sound investment.
"I know you couldn't go and do this with today's dollars and buy land and to it for the cost we're doing it for and have the result we'll have," he said. "This land is beautiful. We're lucky we're here in the heart of a city that continues to grow. LCC (Lawrence Country Club) is a fabulous course, a beautiful members' course, but for a market of 95,000, for people to only have LCC and
Eagle Bend, the community would be under-served for golf without our 27 holes."
The reservoir will control water costs and letting the native fescue overtake maintained grass in some areas will contain mowing costs factors that should enable the club to maintain a high level of maintenance without breaking the bank.
Gogel lives in Mission Hills with his family, is a member of Kansas City Country Club, but said his rounds are limited by his travel schedule covering the PGA tour.
"After seeing the swimming pool, I'm kind of jealous I don't live in Lawrence," Gogel said. "Not many communities have a swimming pool that nice. And then the wellness center will be a fabulous amenity."
The front side of what formerly was Alvamar private has remained open during the renovation, as well as a shifting assortment of nine other holes, based on which holes are being renovated at certain times. The inconvenience has driven some golfers to Eagle Bend and Lawrence Country Club and members who have left have been informed that they will need to pay an initiation fee to return to the Jayhawk Club. Many members who remember a more glorious past and envision an exciting future have hung in there.
More like this story on KUsports.com