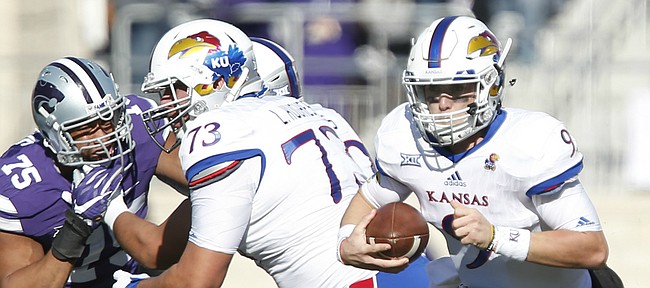 If news of Big 12 media members picking Kansas football last in the 2017 preseason poll had made its way through Anderson Family Football Complex Thursday afternoon, players weren't paying much attention to the prognostication.
Asked what kind of reaction the 10th-place forecast received among the Jayhawks, junior quarterback Peyton Bender didn't mention motivation, disdain or anything of that nature.
"To be honest, I don't really pay attention to any of that stuff," the former Washington State QB said. "I didn't even know that the predictions came out today."
Starting center Mesa Ribordy, too, took a stance of unawareness on the matter.
"I haven't seen that at all, but around here I don't think it has any effect on us," added Ribordy, a redshirt sophomore offensive lineman. "I think we believe in ourselves and our fans believe in us. And I think that's going to take us where we need to be."
While none of the current KU players were ready to declare their 10th-place standing in the preseason Big 12 poll as a mistake or claim the Jayhawks would prove the projection wrong, redshirt sophomore quarterback Carter Stanley gave the impression he and his Kansas teammates are too narrowly focused on improving on the team's 2-10 record from 2016 to feel slighted by what outsiders think of their 2017 potential.
"We really don't look too far into that stuff," Stanley said. "We know what we're capable of doing and we know we have to work to get to where we want to be. And I think it's all just a mindset. We're not worried about what someone thinks we're going to be or what we're not going to be. I think we're all just aware that we need to work to be as good as we can be. And we're just excited for the season."
Armstrong makes Nagurski watch list
The Big 12's preseason Defensive Player of the Year, Kansas junior defensive end Dorance Armstrong Jr. qualified as an easy addition for the Football Writers Association of America, as members recently compiled their 2017 Bronko Nagurski Trophy watch list.
Armstrong, the conference's returning leader in sacks (10), tackles for loss (20) and forced fumbles (three), is one of 103 FBS players currently in the mix for the FWAA's National Defensive Player of the Year honor, named after former University of Minnesota and Chicago Bears star Nagurski.
As a sophomore, Armstrong, a Houston native, ranked fifth in the FBS in tackles for loss and 18th in sacks.
The FWAA and the Charlotte Touchdown Club will announce five finalists for the 2017 Nagurski Trophy on Nov. 16. The annual Nagurski Trophy Banquet will be Dec. 4, in Charlotte, N.C.
More like this story on KUsports.com