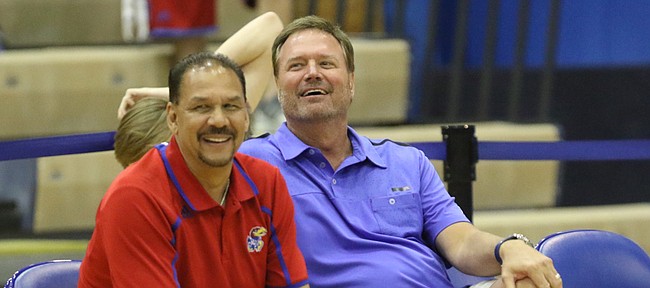 As if preparing for four games on Italian soil in early August was not making things busy enough, Kansas coach Bill Self and his staff have been running ragged on the recruiting trail of late.
Out on the road a minimum of four days a week, tracking some of the top talent in the 2018 class, Self and company are seeking players of all shapes and sizes to add to next year's roster and continue building for the future.
"We're looking for everything," Self said during a recent meeting with the media. "I think we could lose five or six guys (after the 2017-18 season) so we've gotta sign big, we've gotta sign little, we've gotta sign point guard and tall wings. We need to sign a little bit of everything."
As is the case every year with transfers in, transfers out and potential departures for the NBA, it remains to be seen exactly how things will play out following the 2017-18 season. But the Jayhawks are all but certain to lose seniors Devonte' Graham, Svi Mykhailiuk and Jack Whitman.
To get to five or six open scholarships as Self suggests, KU also would have to lose two or three players in the group of potential early entrees, which includes center Udoka Azubuike, guard Malik Newman, forward Billy Preston and guard Lagerald Vick.
Because that list runs the gamut from a 7-foot center to a 6-foot-2 point guard, Self and company have the luxury of keeping all of their options open whey scouting talent in the 2018 class and beyond.
As usual, the Jayhawks have been major players and shown a lot of love to a good chunk of the Top 10 prospects in the country. But for every Top 5, 5-star standout there's half a dozen players in the position reigning national player of the year Frank Mason once was in — Mason initially was ranked No. 131 in the 2012 class by Rivals.com — and Self and his staff have shown time and time again that they understand the importance of landing players in both tiers.
"Recruiting-wise, this'll probably be about as important a year as we've had because of what we'll potentially lose next year," Self said.