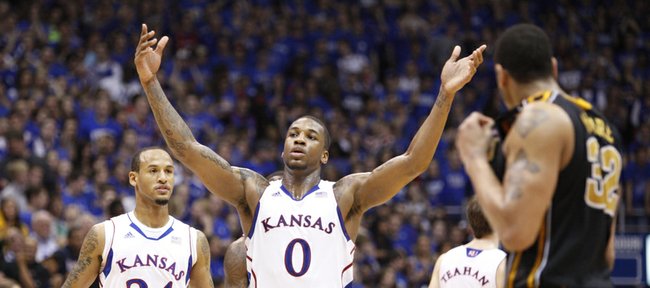 All the whining in the world won't bring the basketball Border War back to life, but an NCAA tournament bracket has the potential to make it happen as soon as March of 2018.
Head basketball coach Cuonzo Martin, Missouri's offseason hire, already has made a huge recruiting splash and probably isn't done.
Jontay Porter, younger brother of Michael Porter, the nation's No. 1-ranked recruit in the Class of 2017, could reveal as soon as today that he is reclassifying from the 2018 class to 2017, which means he could fill MU's final scholarship, strengthening Martin's already loaded class. The younger Porter is ranked No. 11 in the Class of 2018 by Rivals, which has Missouri No. 7 in the nation in its school recruiting rankings.
That ranking doesn't even include the addition that could prove to be the most significant of any Mizzou recruit not named Porter. Canisius College graduate transfer Kassius Robertson averaged 16.1 points per game and made 41 percent of his three-pointers for the Golden Griffins last season. He'll face better competition in the SEC, which is a big reason he decided to transfer. He'll also have more room to shoot because opposing defenses won't make stopping him the No. 1 priority, as was the case at Canisius. Robertson scored 16 points in a loss to Kentucky at Rupp Arena last November, which whet his appetite for big-time basketball atmospheres.
In addition to Robertson, Missouri has its three leading scorers back, two of them juniors (Kevin Puryear and Terrence Phillips), one a senior (Jordan Barnett). So that's four experienced players joining the four (five if the younger Porter reclassifies) freshmen.
Michael Porter is a 6-foot-9, 220-pound do-it-all forward. Shot-blocking center Jeremiah Tilmon, ranked No. 42 by Rivals, is 6-10, 235 pounds. C.J. Roberts, No. 104, is a point guard, Blake Harris a shooting guard. Jontay Porter is a 6-10, 240-pound post player.
It won't be an easy challenge for Martin to blend so many newcomers, but he'll have talent and a balanced mix of point guards (Phillips and Roberts), wings (Michael Porter, Robertson and Harris) and inside players (Tilmon, possibly Jontay Porter, Barnett and Puryear).
That's a nine-man rotation featuring four players who last season averaged double figures in Division I and five hotshot recruits, one a superstar.
On paper, the Tigers project as anywhere from, oh, let's say a No. 7 seed to a No. 10 seed. KU has been a No. 1 or No. 2 seed in eight consecutive seasons, so projecting a ninth is reasonable.
So if Kansas is a No. 1 seed and Missouri an 8 or 9, or KU is a No. 2 and Missouri a 7 or 10, and they're in the same region, Selection Sunday will take on a new level of euphoria for both states.
Then, if Martin improves his NCAA tournament record to 4-2 with a first-round victory and KU coach Bill Self improves his NCAA tourney mark to 44-18 by winning in the first round, Kansas and Missouri would meet in a basketball game for the first time since Feb. 25, 2012, when Kansas stormed back from a 19-point second half deficit to defeat the Tigers 87-86 in overtime.
Many dominoes must fall for it to happen, but far crazier things have occurred in March. Here's hoping it happens. If it does, the result might make former Missouri chancellor R. Bowen Loftin fear his wishes for the rest of his life.