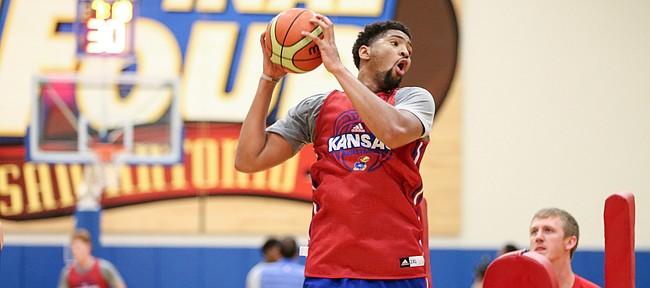 If you didn't know his name, his number or his situation, you might have thought that junior forward Dedric Lawson was preparing for his third or fourth season at Kansas, not his first.
That was the vibe the newcomer from Memphis carried into his first meeting with the media on Tuesday, an hour or so before the Jayhawks' third of 10 practices ahead of next month's exhibition trip to Italy.
From the way he strolled into the Allen Fieldhouse media room, to his infectious smile, constant chuckles and thoughtful answers to the dozen or so questions tossed his way, Lawson appeared as comfortable in his new surroundings as any KU player who has called Lawrence home.
There was a reason for that. And both Lawson and sophomore guard Malik Newman, who, just one year ago was in a similar position, had no difficulty communicating exactly what it was.
"I didn't go through the experience of feeling left out or anything like that," said Newman, who transferred to Kansas from Mississippi State a year ago. "But I know the Lawson brothers; I kind of grew up with them and I didn't want them to come here and feel like it was Kansas basketball and then the Lawson brothers. And I think the whole team did a good job of making sure they didn't feel that way."
Lawson agreed. Immediately.
Photo Gallery
Kansas Basketball Open Practice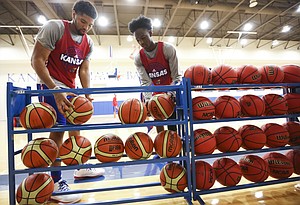 View a photo gallery from the Jayhawks' open practice on Tuesday in the practice gym.
"I feel great here," he said. "Guys had open arms with us from the first time we got here. Devonte' (Graham), he took us under his wing and Malik, those guys made it comfortable for us when I hit the ground."
The next actual game the new Kansas forward will play in isn't even scheduled yet.
But that hasn't stopped Lawson from getting after it during his first with the Jayhawks after joining his brother, K.J., in leaving their hometown for Lawrence. The move will require both brothers — along with Cal transfer Charlie Moore — to sit out the upcoming season but will not prohibit them from playing in KU's four exhibition games in Italy.
Naturally, Lawson is looking forward to the trip — as much for the cultural experience as the chance to get on the court with his new team — but he's plenty fine with the role he knows he'll have for the next year, as well.
"It does feel like it's just free," he said of his upcoming red-shirt year. "You don't have to get ready for games, you just have to push the guys that are playing in the games and that's what me, my brother and Charlie Moore have been doing, just competing with them and making those guys better every day. Practice, for me, has been very fun and competitive and that's something I love about the game of basketball. I love the way the coaches coach us and the way players compete every day at practice."
For a player who has NBA aspirations and actually attended last year's pre-draft combine, Lawson believes he will have no problem transitioning from averaging a double-double with Memphis to sitting at the end of the bench cheering on others to do the same at Kansas.
"It's all about being disciplined," he said of staying hungry and sharp while sitting out. "Something my parents told me growing up playing basketball was just stay true to yourself, stay in the gym and go hard."
While Lawson has nothing but good things to say about his former school and his hometown, he admitted Tuesday that the couple of months in Lawrence already have been eye-opening.
"A lot of things are done differently, from a coaching standpoint to guys being in the gym more than just the time that you are given to be in the gym," he said. "That's something that I'm open arms to and it was really surprising to me to see how many guys would be in the gym late at night and it kind of encouraged me to stay in the gym."
Being in the gym means different things to different people. Working on his footwork, jump shot and conditioning always have been standard. And Lawson has spent his share of time in the weight room, too. But his work with KU strength and conditioning director Andrea Hudy also has proven to be a step into new territory for Lawson.
"We work on quick twitches, posture, staying down and running right," he said. "Something else I've been trying to focus on is my eating habits, trying to change my diet, trying to cut back on a lot of red meat to make myself a better athlete overall."
While that has been doable in most cases, it has been particularly tough in one area that figures to grab the attention of those in and around Lawrence and Kansas City.
"Memphis barbecue," said Lawson when asked what red meat was the toughest to cut out. "Because it's the best barbecue anywhere."