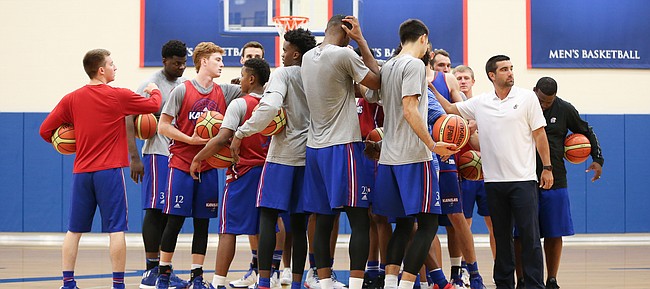 For starters, it's only been a couple of practices. Beyond that, the 2017-18 version of the Kansas men's basketball team is merely preparing for a few exhibition games in a foreign country, not a regular season game, the Big 12 tournament or the Big Dance.
But even with those disclaimers, Kansas coach Bill Self said this week that his team's first couple of practices had produced some solid results that might mean something a few months from now when things get going for real.
"It's probably too early, but I think guys will start separating themselves a little bit," said Self when asked what he expected from his team's 10 pre-Italy practices allowed by NCAA rules. "Players will start looking to certain guys as being good players and learning how to get the ball to guys in certain situations. With the young kids, I think the biggest thing you can kind of start developing is your culture and how you're going to work and that kind of stuff. I'm not saying this is going to help us win one more game, but you would think if you do something in the summer, you should be probably a week or two ahead when games start in November. But that's probably about the extent of this."
"Meat and potatoes" was the phrase Self used to describe the gist of what's going on during these summer practices, allowed once every four years as preparation for a foreign exhibition tour. And it refers to the idea of laying the foundation for what the Jayhawks will do, how they'll do it and what will be expected of every player in the program.
For a team that features six true newcomers — eight if you count last season's transfers Malik Newman and Sam Cunliffe — those details are every bit as important as watching film or scouting an opponent.
"It's more learning right now," Newman said Tuesday. "Italy will be the same thing, a learning trip. It's more learning than the regular season, but it's still competitive, it's still high-intensity and we're having fun with it."
A big reason for the summer intensity is the presence of those newcomers. Dedric and K.J. Lawson both played key roles at Memphis a season ago. So did point guard Charlie Moore at Cal. Add to that the veteran presence of graduate transfer Jack Whitman and the athleticism of 2016-17 transfers Newman and Sam Cunliffe and it's easy to see how the Jayhawks can split up into two teams of five that can get after each other.
For Dedric Lawson, that means going against a whole different type of player from the ones he faced at Memphis. And he likes that.
"They're great bigs," Lawson said of returning Jayhawks Udoka Azubuike and Mitch Lightfoot. "Athletic guys. Strong, big guys. Something that you'd expect at an institution like Kansas."
The same could be said for KU's backcourt. And after a year of limited options and paper-thin depth, the Jayhawks, at least on paper, appear to be heading into a season with a talented roster stacked from top to bottom.
Blending that all together will be the key, and Self likes where his team sits in that regard, as well.
"I think the leadership's already starting to kind of solidify itself," Self said. "I mean, this is Devonté's team. We want other guys to be leaders and all those things, but everybody's going to look to Devonté."
Until their departure on July 31, the Kansas coaches will hit the road to recruit Wednesday through Sunday and return to Lawrence for practices on Mondays and Tuesdays.
Although those sessions will be run and look a lot like practices during November and December, Self emphasized this week that the entire Italy experience will carry with it a more laid-back vibe.
"I can't imagine the players not having a good time and enjoying themselves," he said. "Even though we are going there to play ball, it's also kind of a reward trip, too. So hopefully we'll go over there and get a little bit better basketball-wise, but most of the getting better basketball wise is going to take place here in Lawrence (when the regular season rolls around)."