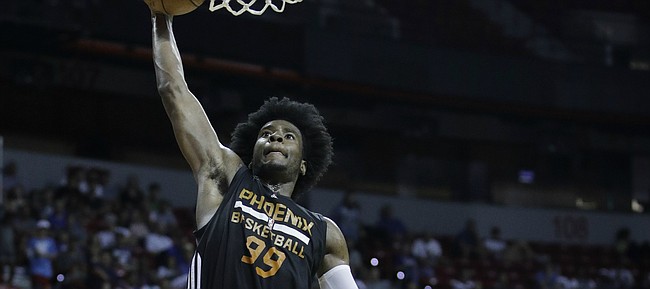 So far this summer, former Kansas guard Josh Jackson has struggled to knock down shots with his new team.
But that's not because the No. 4 overall pick in June's NBA Draft has been shy about taking them.
Through two games with the Phoenix Suns, Jackson has made just 12 of 35 shots (34 percent), including a 1-of-9 clip from 3-point range and an 8-of-11 mark at the free throw line.
Sunday afternoon, in the Suns' 88-77 loss to Dallas, Jackson scored 15 points in a team-high 37 minutes and added nine rebounds, two assists, two steals and seven fouls, a number allowed by NCAA Summer League rules.
True to the form he showed throughout his one year at Kansas, Jackson filled up the stat sheet with numbers and the floor with energy and effort, which led to several good moments and a few bad.
On Sunday, Jackson missed a wide open baseline dunk when the ball clanged off the front of the rim. He more than made up for it later in the game, flushing a couple dunks of his own and tossing a couple of alley-oops, as well."
"That's what we're here for, to come out and make mistakes and learn and I think we got better," Jackson said in an interview for the Suns' Twitter account. "It was fun. I learned that I have to bring a little bit of toughness, but at the end of the day it's just all about playing basketball."
That was the message sent to Phoenix's summer league roster by Suns standout Devin Booker, a former Kentucky Wildcat set to begin his third NBA season, who scored 70 points in a single game last season and has a strong interest aiding in the development of some of Phoenix's younger players.
"I like Josh a lot," Booker told ESPN from courtside of one of the Suns' weekend games. "He's an ultra competitor, he's gonna bring a lot to practices and he's tough. He's gonna bring that momentum that you need to the floor, that competitive nature. I feel like we have a really good, young group that I can lead. We all get along really well. We all hang out off the court. And I'm looking forward to it. It's a lot of fun, just developing that chemistry. You know, I'm still 20 years old and I feel like I should be out there playing."
Booker's presence certainly would help the Suns' chances at the Vegas title, but, his absence has allowed Jackson to get comfortable playing through mistakes and learning on the fly.
"As far as feeling any pressure to prove anything, I don't feel any," Jackson said. "I just come out and be myself."
Phoenix returns to action at 5:30 p.m. Monday against Houston.
Diallo stays hot
Former KU forward Cheick Diallo, who dropped 27 points in the New Orleans Pelicans' Las Vegas opener last week, topped the 20-point mark again on Sunday, tallying 23 points on 9-of-18 shooting in a New Orleans loss.
Diallo, who played with four NBA D League teams last year and was called up or sent down by the Pelicans seven different times, also added 10 rebounds, — his second consecutive double-double in Vegas — three blocks and two steals in 34 minutes.
"It's unbelievable," Pelicans' summer league coach Jamelle McMillan told the New Orleans Advocate of Diallo's strong start in Vegas. "He's learning his role and knows what we expect him to do. He's finding ways for him to be valuable and be effective within the framework of what we do. And his voice is great, because he's getting his talk up. For him, it's about rebounding and being able to guard the ball," McMillan said. "He can run the floor with the best of them and if we're able to get him active on both ends of the floor in the paint, as well as understanding his coverages, then he will have done his job."
Diallo and New Orleans jump back into action at 5 p.m. Monday vs. Brooklyn.
Ellis improves
After a scoreless debut with Minnesota on Saturday, former Kansas forward Perry Ellis made bounced back in a big way on Sunday, finishing with 13 points in 18 minutes during the Timberwolves' 90-71 win over Denver.
Ellis, who hit five of the nine shots he attempted on Sunday, recovered quickly from his 0-point, 0-for-3 effort in his 2017 NBA Summer League debut on Saturday.
The former Kansas All-American, who went undrafted following his senior season at Kansas, is in his second attempt at cracking an NBA roster. This time, however, the Wichita native does so with the security of a guaranteed contract with the Sydney Kings in Australia to fall back on.