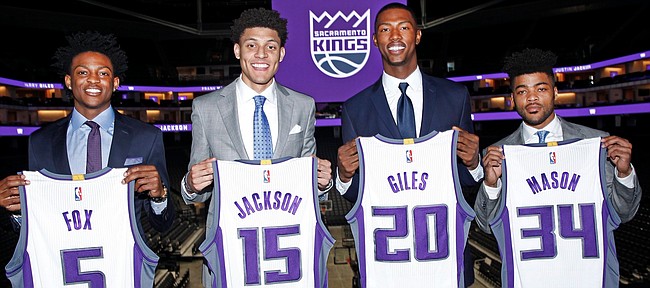 With 268 college victories between them, former NCAA standouts and current NBA rookies De'Aaron Fox, Justin Jackson, Harry Giles and former KU point guard Frank Mason III will be asked to bring a winning culture back to Sacramento during the next few years.
Friday night, that foursome, along with their summer league teammates, got that journey started with an 89-85 loss to Josh Jackson and the Phoenix Suns in their debuts during NBA Summer League action in Las Vegas.
For the group, the night marked the first opportunity to taste life in the NBA, with elite-level athletes and experienced players all over the floor at every position.
For Mason, it marked a chance to face former KU teammate Josh Jackson as an opponent for the first time.
Although Jackson (18 points, eight rebounds) outdueled Mason (four points, four rebounds, two assists), both individually and in the win column, the reigning national player showed plenty of good moments and proved he belonged out there.
So, too, did Fox, the No. 5 overall pick from Kentucky who was arguably the best player on the floor. Fox finished with 18 points, four assists and five steals in 27 minutes, and, before the game, both players, along with the other two Kings rookies, talked with ESPN's Seth Greenberg about the journey from blueblood college programs to the bottom of the NBA.
"It was crazy," Fox said of the Kings' draft that plucked one player from Kentucky, Kansas, Duke and North Carolina. "I found out that we had traded the 10th pick and then we got Justin and Harry and I was actually still in the back when I found out we get Frank and I was like, 'Man.' I didn't think of it like that, though. I just thought we got four great players coming in trying to change the program."
Mason had a different point of view.
"I realized it," he said of the Kings drafting four players from elite college programs. "We got three good picks ahead of me and I was the 34th pick and I pretty much watched every one of them. I'm just excited we got three really good players."
With that first step now out of the way, the rest of the summer is about building a bond that Sacramento brass hopes one day will be the foundation of a winner.
Fox and Mason, both point guards, played together at times during Friday's second half and Kings summer league coach Jason March said that was by design.
"I (liked it)," March told reporters after the game. "I think it definitely gives us a different look. I don't know how much we'll do it but I just felt like it would be a nice little adjustment we could go to with those guys and show them a little something different. But we don't want to do that too much. We've got twos, we've got threes that we want to play. It was more about these guys getting plays ran for them and being on the floor than it is finding match-ups to hurt the other team.... Of course we want to win games. Don't take that wrong. But it's my job to put these guys in places for Coach (Dave) Joerger and our front office to see them execute and do different things."
As for how quickly the four new Kings plan to grow, both together and individually in order to turn the franchise back into a contender? That, according to the rookies, is a matter of how well they follow the lead of Sacramento's veterans, new and old. Players like former Oklahoma guard Buddy Hield will play a role. But new additions Zach Randolph, George Hill and Vince Carter, also figure to be instrumental in the development of this young group and the organization.
"(We're) just coming in and trying to play our game," Fox said. "We've got a few vets coming in to help us and we can't do it (by ourselves). We're way too young. We know those guys know how to win, they know what they're doing, they're gonna show us the ropes and we're gonna come in and try to play our roles."
What exactly are those roles? Mason, sounding an awful lot like he did for four years in Lawrence, easily explained: "Just compete at a high level, go out and play unselfish, don't try to force anything and do what got you here. And be a great teammate."
Self to visit Vegas?
Kansas coach Bill Self told the Journal-World earlier this week that he was considering a quick trip to the desert to watch three players from last year's 31-5 Kansas team play in NBA summer league action.
The current Jayhawks began practices for next month's trip to Italy on Friday and were scheduled to go again Saturday with a day off slated for Sunday. That would allow Self to sneak away and watch Mason and Jackson along with former KU center Landen Lucas.
Mason and the Kings are scheduled to face Wayne Selden Jr.'s Memphis Grizzlies at 9 p.m. on NBA TV. Jackson and the Suns are set to take on Dallas at 3 p.m. on ESPN. And Lucas and the Celtics will face Portland at 7:30 on ESPN 2.
Selden goes off
Former Kansas guard Wayne Selden Jr., continued his forward momentum at the professional level, exploding for a game-high 28 points on 10-of-20 shooting in the Grizzlies' 91-88 win over Washington in the team's Las Vegas opener.
Selden, the former undrafted free agent who recently signed a two-year deal with Memphis, also shot 4-of-6 from 3-point range and grabbed six rebounds and three steals in a team-high 30 minutes.
Selden's big day was not just junk time production either. His old-fashioned 3-point play with two seconds to play proved to be the game winner, as Selden drained a 15-foot jump shot while getting fouled to put Memphis over the top.