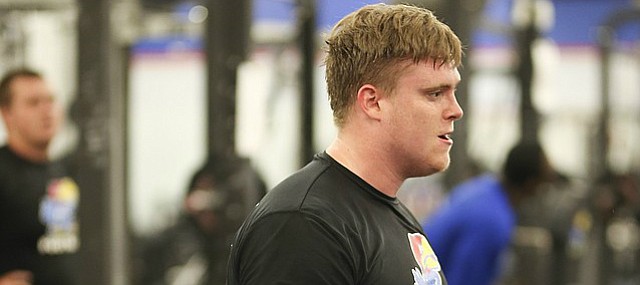 Historically, Kansas hasn't landed many recruits who play in prestigious, nationally televised high school football all-star games, so when Jacob Bragg, a three-star center from Nacogdoches, Texas, did in 2013, hard-core KU football fans celebrated the news.
Never mind that Louisiana Tech was his other solid scholarship offer, he was an all-star and he was coming to Kansas, bound to make an immediate impact.
It didn't quite work out that way — it seldom does for offensive linemen, no matter how much glory they attain in high school. The all-star status doesn't mean a thing to older, bigger, more experienced defensive linemen competing for playing time and earning it by flattening young blockers in practice.
To hear Bragg look back on the Under Armour All-Star Game of four years ago is to reach the conclusion it probably did him more harm than good.
"I think when I came here from the All-American game I was a little bit delusional about the talent level maybe and how much it required of me to put in that time," Bragg said. "I didn't get it at first that I needed to put in time at home when no one's watching."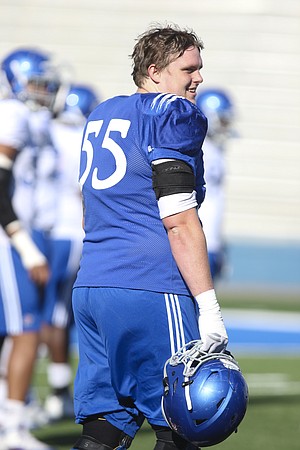 Now listen to first-year strength and conditioning coach Zac Woodfin, who has seen a distinctly different Bragg.
"He's been around here the longest (of the offensive linemen) and it shows," Woodfin said. "He's really mature and professional as far as every little detail, being here early, never not locked in, a no-nonsense approach, which I really appreciate. And as far as strength and power, he's up near the top of that group."
Woodfin cited a recent workout at which Bragg squatted 505 pounds, 10 sets of two reps: "Every single rep he's down all the way to the bottom as far as range of motion, and coming up, strong, powerful, bends really well. I've been really impressed with his work ethic and demeanor."
Clearly, Bragg gets it now. And really, how was he supposed to get it coming out of high school?
"You have no clue," Bragg said. "I was one of the better players on my team. I worked hard every day, but I never really had a time where things weren't going my way. I never had a time where I work hard and have nothing to show for it; that never happened to me before. You work in the offseason, you work during camp and you don't get to play and that helps you grow a little bit... learning you have to fight through things. You can't let things drag you down."
Bragg, projected to back up at guard and center, said he feels his body getting stronger and more flexible and he's convinced that will translate to making big strides on the field during his redshirt junior season.
Bragg had worked his way onto the first team at guard in spring football 2016 when he suffered a setback.
"A couple of days before camp started, I pulled both my hamstrings," Bragg said. "It was probably the worst time you could ever do something like that in your career. That took a toll on me throughout the season, even more mentally than physically.
"The last couple of springs I've been working through injuries. This spring is finally injury-free. I don't have to recover from anything. I'm not doing rehab and I don't have to come in every day and worry about, 'Am I going to tweak this today if go too heavy?' or, 'Is my hamstring going to pop if I go too fast?' It's kind of nice not having to worry about little medical things."
He said the greater emphasis on stretching and flexibility makes him confident in his ability to stay healthy.
Bragg represents what every Big 12 offensive line should have an abundance of — an experienced lineman who can play multiple positions.
KU still doesn't have ideal experience and depth at O-line but is drawing closer. From left tackle to right tackle, the projected starters are sophomore Hakeem Adeniji, senior Jayson Rhodes, third-year sophomore Mesa Ribordy and juniors Larry Hughes and Charles Baldwin.
"It'll be a complete change," Bragg predicted of the O-line's performance compared to 2016. "We're all pretty strong, pretty close strength-wise. A lot of guys have been in the system two years now. We all know what's going on."
Offensive linemen and O-lines are built gradually, growing in knowledge, strength, experience and chemistry.
Bragg compared his readiness for Big 12 football to when he arrived on campus in advance of his freshman year of school.
"My confidence is real now," Bragg said. "It's not, 'I think I"m going to be OK. I don't know but I'm going to give it my all,' and everyone (outside the program) tells me, 'You're going to start.' (Now) I might not start so I better work my (tail) off or I might not get to play."