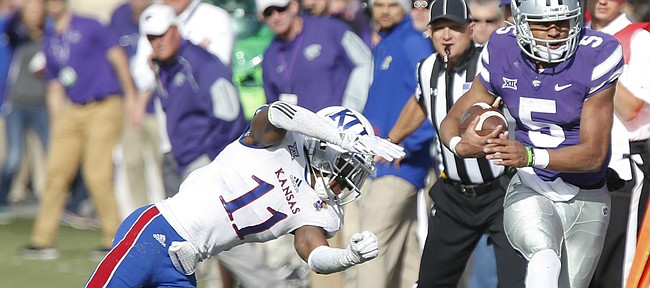 Headed into the 2016 season, the Kansas football team needed all the on-field help it could get — on all fronts. Accordingly, some true freshmen, instead of slowly working their way up through the ranks, got legitimate chances to shine as starters.
The Jayhawks hope that also brings some payoff in 2017, when three of the more important players on the roster will be sophomores.
Mike Lee, Hakeem Adeniji and Khalil Herbert made the best of their opportunities while being thrown into the proverbial fire, and they expect to be far better prepared to contribute to KU victories this coming fall.
Although safety Lee picked up a reputation as a nasty hitter in the secondary, he knows he was far from perfect in his debut season.
"Really, I want to get better at just slowing down, I guess," Lee said during a recent appearance on KLWN's Rock Chalk Sports Talk. "Instead of just running full-speed at people I want to break down and make some light tackles, instead of like making every tackle hard. So really I just want to be patient and settle down and make easy tackles … You make hard tackles or if you try to make hard tackles you're going to miss some of them and they're going to be touchdown plays, and I don't want to be on nobody's highlight tape."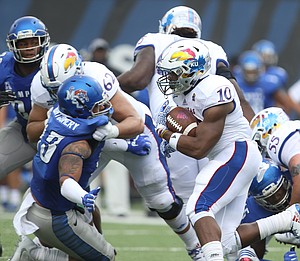 Left tackle Adeniji said going into his freshman year even he didn't think he would wind up starting every game. He considered it good fortune that he ended up at KU, learning from "one of the best offensive line coaches in the country," Zach Yenser.
Plus, Adeniji felt more than ready to take on Big 12 pass-rushers after spending practices battling monstrous Kansas defensive end Dorance Armstrong Jr.

"Everything set up for me to be prepared and I've been playing football my whole life, so it was bigger/faster guys, but at the end of the day I was just doing what I love to do," Adeniji said of finding success as a freshman O-lineman.
As a running back, Herbert played at a position where KU had some options. But he also possessed enough talent that coaches wanted him involved in the offense.
Herbert, who averaged 4.3 yards per carry and scored three touchdowns in eight appearances, said he feels much more prepared for his sophomore season.
"Definitely the speed of the game," Herbert said of his biggest freshman hurdle to clear. "The Big 12's a really fast conference, fast-paced offenses. So getting into that rhythm really helped me and I think it's going to help me again this year."