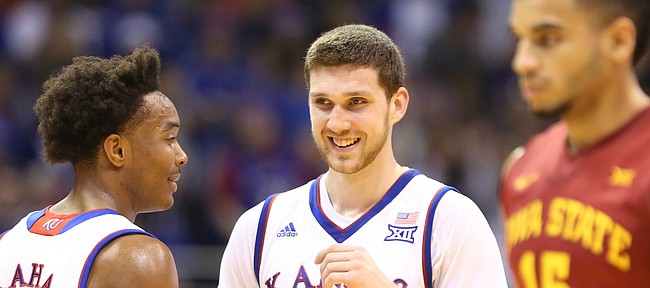 For the past several weeks, Kansas guard Svi Mykhailiuk has been back home in Ukraine, playing with his national team in preparation for the upcoming European Championship U20 tournament set for July 13-23 in Crete.
The training has been merely the first part in a summer-long stint overseas for the senior-to-be, who is expected to join his Jayhawk teammates in Italy in time for KU's four exhibition games in Rome and Milan the first week of August.
"He's just gonna meet us there," KU coach Bill Self told the Journal-World this week when asked about Mykhailiuk's status for the team's summer trip to Italy. "He's gonna meet us there, he's not gonna practice with us, he's gonna stay with his team and I'll play him some, obviously, when we get over there, but I don't know how much I'll play him."
Mykhailiuk's status as an experienced veteran on the 2017-18 team will allow the Ukrainian to seamlessly slide back into his role after his absence this summer, which has opened a door for some of KU's younger players and transfers to get more out of their summer workouts in Lawrence.
For the second consecutive summer, Self mentioned the name of junior Lagerald Vick when asked who had stood out to him thus far, but the KU coach said he was not at all worried about mixing Mykhailiuk back into the fold when the team arrives in Italy on Aug. 1.
"He'll get an opportunity to be with us then," Self said of the senior sharp-shooter who announced his return to KU for a senior season on May 24. "It won't throw anything off at all."
Mykhailiuk has averaged 13 points per game while starting and playing around 25 minutes per game during seven exhibition tune-ups for the upcoming tournament in Crete. That includes games of 21 and 22 points, one each in a four-game stretch in France and a three-game session in Italy.
The young Jayhawk, who turned 20 on June 10, also is expected to compete with Team Ukraine at FIBA Eurobasket 2017, Aug. 31-Sept. 17 in Israel and Turkey later this summer.
As for the Kansas part of Mykhailiuk's European summer, the Jayhawks will play two games in Rome (Aug. 2-3) and two games in Milan (Aug. 5-6) during the eight-day trip that Self said was designed as much to create memorable experiences off the court as it was meaningful gains on the court.
"I'm approaching this totally different in that we're going over there and we're gonna try to play well and that stuff," Self began. "But we're going more for the experience and the opportunity to see another part of the world and, obviously, do some team bonding and try to get everybody on the same page with how we need to do things this year."
Kansas will begin its stretch of 10 pre-Italy practices allowed by the NCAA on Friday. Self said KU would cram four of the 10 practices into a six-day stretch at the outset and then conduct two a week for the three weeks leading up to their departure on July 31.