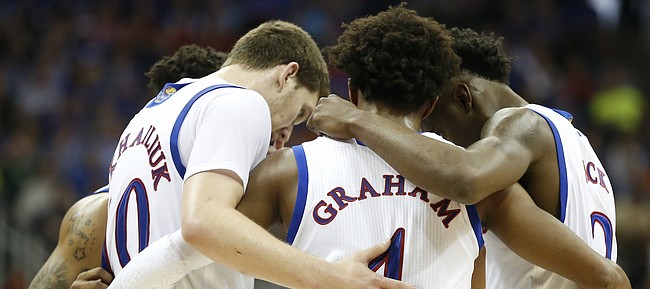 The four Kansas men's basketball games played on Italian soil in August will be streamed live online for fans back home to watch and will carry with them a familiar sound.
All four of KU's exhibition games in Italy — Aug. 2 and 3 in Rome and Aug. 5 and 6 in Milan — will be shown live via a streaming service at FloHoops.com and will be paired with the radio broadcast of KU's Brian Hanni and Greg Gurley.
In order to access the games, KU fans will have to subscribe to FloHoops for a $29.99 monthly fee.
The Jayhawks this week also learned game times and the identity of their Italian opponents.
KU's games in Rome will tip off at 6:30 p.m. in Rome (11:30 a.m. in Lawrence) and the two contests in Milan will tip off at 7 p.m. local time, Noon in Lawrence.
Game 1 in Rome, on Aug. 2, will be against a team of 18- and 19-year-olds from various Rome basketball clubs at Honey Sport City. The next day, KU will face a team called the Players Group, which is being organized by Vittorio Gallinari, father of NBA star Danilo Gallinari. That game also will be played at Honey Sport City.
In Milan, on Aug. 5, KU will play the Players Group for the second time at PalaSport Enrico Somaschini (PalaPorada) and, a day later, will take on Italy All Star A2 in the same location.
The Italian All Star team will consist of players from the Lega Basket Serie (LBA) professional league from the A2 level.
For those traveling to Italy with the Jayhawks, tickets can be purchased the day of the competitions for 5 euros.
There will, of course, be more to the trip than just basketball. KU coach Bill Self told the Journal-World earlier this week that the exhibition tour was as much about experiencing another culture and team bonding as it was stats and sets on the court and added that he was looking forward to getting this new team together for the first time in a competitive setting.
In Rome, KU's sightseeing tours will include the Colosseum, the Vatican Museum, St. Peter's Basilica and the Sistine Chapel. In Milan, the contingent will tour the Milan Cathedral and take a boat tour of Lake Como.
"This is not win-at-all-costs this summer, obviously," Self told the Journal-World. "So we'll divide up the minutes and I would think there'll be some games where our veterans will play a lot of minutes and there'll be some games where they play very little if any, just depending on competition and how it's going. I think it'll be good."
Every player on KU's current roster will be eligible to play, including all of the new transfers and senior-to-be Svi Mykhailiuk, who has spent most of the summer in Ukraine playing with his national team.
"I'll probably start the guys that'll obviously be playing and eligible and they'll play the majority of the minutes, don't get me wrong," Self told the Journal-World. "But there's nothing that says those other guys (transfers and newcomers) can't have basically their own team, you know, maybe their own sub-team or whatever, and/or be thrown in with some of the other guys."
Regardless of how the minutes shake out, Self said getting an opportunity to build team chemistry in a laid-back environment while also finding a way to move forward with replacing last year's leading scorers, Frank Mason III and Josh Jackson, provided a great advantage for this Kansas team heading into the 2017-18 season.
"I think that's part of it," Self said of his team bonding overseas. "But I think it's about experimenting, too. With practices, we're gonna experiment, doing some things we've never done before and that kind of stuff."
KU will kick off its first of 10 pre-Italy practices allowed by the NCAA on Friday and will squeeze three more into the next four or five days. After that, Self said the Jayhawks would practice twice a week for the three weeks leading up to their July 31 departure.