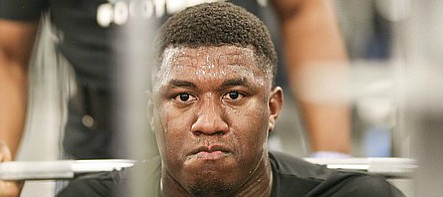 Family and close friends at the Wise household in Lewisville, Texas gathered to watch the television coverage of the third day of the NFL draft. Everyone in the room was confident that an NFL team would select Deatrich Wise. It was just a question of when.
"We were waiting all day, walking around, and all the sudden we see him on the phone and then there was dead silence in the room," said his younger brother, Daniel Wise, defensive lineman for Kansas. "He got the call two picks ahead (of TV coverage). After he got off the phone he told us what was going on, he pointed at the TV and said, 'It's the Patriots.' That was a moment you won't forget."
It also was the moment Daniel Wise added a big item to his aggressive list of football goals. The Patriots chose Deatrich in the fourth round with the 131st overall pick.
"There is always going to be a sibling rivalry," Daniel said. "When that time comes I'm hoping to get picked higher."
For Deatrich Wise, that time came after five years in the Arkansas football program. Daniel enters his fourth season in the KU program and has two remaining years of eligibility."
He projects as an NFL player and likely will receive a phone call when he's watching the draft with pretty much the same gathering of people, even if the voice on the other end of the phone doesn't resonate as loudly as the one who broke the news to Deatrich.
"It was Bill Belichick himself who called him," Daniel Wise said with sibling pride.
If he has a monster junior season he could make himself available for the NFL draft, although another year of body-building in strength and conditioning coach Zac Woodfin's weight room could lead to a more lucrative start to his pro football career. For now, he said, he's not thinking about that. His answer to the question is similar to that of KU's top NFL prospect, junior defensive end Dorance Armstrong.
"I'm trying to get to a bowl game and accomplish what I need to accomplish here with my brothers at the University of Kansas," Wise said. "Just create a winning program, that's what I care about most."
Wise is listed at 6-foot-3, 290 pounds and it's a tighter looking 290 than in past seasons, which he attributes in part to wiser nutrition decisions.
Woodfin targeted "strengthening, shoring up his trunk posture" as a need for Wise.
"A strong middle of the body will allow him to change directions more efficiently," Woodfin said, "control his body much more efficiently. One of the key things in working on stability through the middle of the body is always being in control, learning how to spring and stop quickly, change directions from left to right under control. It all comes back to being stable in the middle of the body, which is what I mean when I say your pillar is strong."
Wise said he already can feel the benefits to a stronger core that enables him to use his power more efficiently.
"My movements are more controlled," Wise said. "It's easier to move."
Wise's on-field performance, strong work ethic and charismatic personality buy him a lot of respect from teammates, even if his passion can cross boundaries at times, such when he took on a few Texas Tech players in a point-blank, trash-talking exchange before a 55-19 loss.
It didn't energize the team the way he had hoped, but similar tactics do sometimes work in practice, according to teammates.
"The most chatty defensive lineman?" O-lineman Jacob Bragg echoed a question put to him. "Definitely Daniel Wise. But he can back it up so he gets to be chatty. He's a really funny guy."
Wise's words aren't always designed to draw laughs.
"He can completely change a practice sometimes," Bragg said. "Some days we might be a little sluggish and maybe he'll talk (trash) to one of us, a fight will ensue and the rest of practice will be cool, go by real fast because he pushes that tempo and he brings that attitude playing defensive line. He's one of the better defensive linemen I've ever played against and he brings the attitude and he can back it up."
Wise earned second-team All-Big 12 honors by the Associated Press and earned honorable mention from the coaches. He will spend most of his time at defensive tackle but his quickness enables him to play some defensive end as well.
His NFL draft-related goals don't stop at going higher than Deatrich in the NFL draft.
"Then a couple of years after that, my little brother," he said of doubly-wise Solomon Wise, a defensive end at UT-San Antonio.