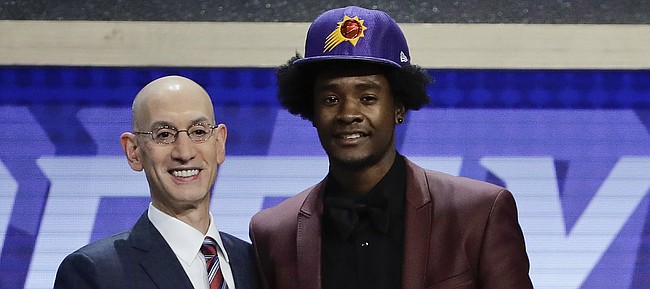 Former Kansas standout Josh Jackson this week officially became a member of the Phoenix Suns, signing his rookie contract, which, over four years, is expected to be worth more than $27 million.
The Associated Press reported that the deal Jackson agreed to includes two one-year team options. Jackson will be eligible for a contract extension in 2020 or could become an unrestricted free agent in 2021.
Jackson, who was selected No. 4 overall by the Suns in last month's NBA Draft, will wear No. 99 with the Suns, at least through Phoenix's summer league schedule.
It remains to be seen why Jackson picked the wild number — he wore No. 11 at KU — and whether he will carry it over into the NBA regular season next fall, but a case could be made for it being the number he thinks would make him most stand out.
After falling to the No. 4 spot in this year's draft, Jackson made it clear that he firmly believed he went three spots later than he should've.
"Of course I'm going to say I'm the best player in this draft," Jackson said after the draft. "But if you ask those other guys, they're going to say the same thing about themselves, I'm sure. But I just love competition, and I love proving people wrong. I've been drafted to Phoenix, and I'm going to go there and I'm going to make the best of it. I'm going to be the best player I can be. And those teams who didn't draft me, one day they will be sorry."
Lucas solid in summer league debut
Former Kansas center Landen Lucas, who, as expected, went undrafted during last month's NBA Draft, played his first summer league game with the Boston Celtics on Monday night.
Lucas finished with four rebounds, one assist, one block and one steal while knocking down one of two free throws in nine minutes of action. He was the first big man off the bench to check into the game for Boston, which defeated Philadelphia, 89-88.
Lucas did not attempt a shot from the floor and two of his four rebounds came on the offensive end.
Summer league names of note
Despite a handful of established players and a few others still searching for their next stop via free agency, Kansas basketball will be well represented during the three NBA summer league sessions this month.
Here's a quick look at the former Jayhawks who will be playing with NBA summer league squads, including one blast from the past who has not been heard from in quite a while: Frank Mason III - Sacramento, Josh Jackson - Phoenix; Perry Ellis - Minnesota; Landen Lucas - Boston; Wayne Selden Jr. - Memphis; and Julian Wright - Utah.