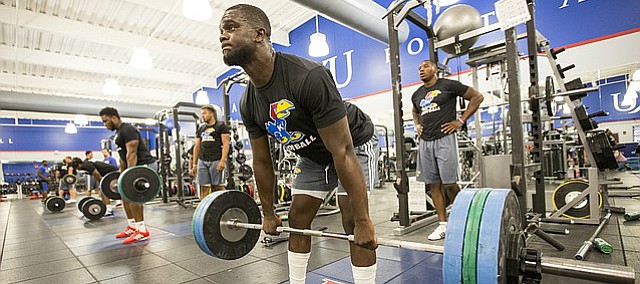 Josh Ehambe has impressed his Kansas football teammates over the past few years with his dedication in the weight room.
Not many players can match his willingness to become a stronger and faster player. Coaches consider him a leader.
But his next step is trying to transfer all of his accomplishments from the weight room to the field. His goal is to line up on the opposite side of the defensive line from preseason All-American candidate Dorance Armstrong Jr.
Ehambe, a 6-foot-3 defensive end from Arlington, Texas, showed some of his promise during KU's spring football game when he was credited with a team-high three sacks. That comes with an asterisk because players weren't allowed to tackle quarterbacks, who wore the red non-contact jerseys.
The spring game was a step in the right direction, and potential turning point, for a player who has tried to do everything possible to improve as a football player.
"If there's a guy I'm most proud of to this point, it's Josh," Kansas coach David Beaty said after the spring game.
Completing tackles is a big emphasis for Ehambe throughout the offseason. Beaty and the coaching staff have told him, a redshirt junior, that he might set a world record for being in the right place at the right time, but making the least amount of plays.
With an urgency to find a defensive end that can provide pressure on passing plays when Armstrong receives his inevitable double teams, the Jayhawks are counting on Ehambe, sophomores Isaiah Bean and Maciah Long, among others, to step up.
"The thing I think he's done the best of is controlling his emotion," Beaty said of Ehambe. "A lot of times, they hurt themselves by playing on pure emotion and not using their brain. He's done a lot better job of being a smarter player."
There was a time when Ehambe was uncertain of his future at Kansas. During his first season, when he was recruited as a linebacker by former KU coach Charlie Weis, his arrival was delayed until late August because of academic questions surrounding his now-shuttered high school, Prime Prep Academy.
He admitted he was "tired and fed up" throughout the summer while waiting for clarity from the NCAA.
"It was very tough, I'm not going to lie," Ehambe said. "It broke me down, broke me to pieces."
A late start of campus meant Ehambe didn't have any route to playing time. After a season of sitting out, he shifted from linebacker to defensive end and played in five games on special teams as a redshirt freshman.
Switching to the defensive line, he sought out advice from his fellow linemen, including Armstrong, junior defensive tackle Daniel Wise and former walk-on Cameron Rosser.
Last year, Ehambe played sparingly and finished the season with three tackles.
"Daniel Wise has really, really helped me," Ehambe said. "He's probably one of the few players on this team that I truly, truly look up to. He can sometimes be a bit childish but that's his personality. He's true to his personality. But when it's game time or practice time, he's focused. He's dialed in and ready to go."
When Ehambe and Wise train together, they refuse to let anything stand in their way — not even a locked practice field. Most of the time they focus on hand drills, getting off the line of scrimmage and going through bags.
"I remember nights we jumped the fence if it was locked and go put in some work," Ehambe said.

Working with KU's newest defensive line coach Jesse Williams, Ehambe said he's building confidence. He's more comfortable on the defensive line and his body is starting to fit Big 12 standards to play the position.
Ehambe, the son of a pastor in Texas, went from weighing 212 pounds when he entered KU to 247 pounds in the spring.
"(Williams) believes that we all have something to the table whether it's on the field or off the field," Ehambe said. "He's hard on us when we're on the field, hard on us in film. But off the field and out of film, he loves us. He's really helped me out believing in myself."
Finally in the right place for a large role on KU's defense, Ehambe is prepared to make the most of it.
For him, it's a chance to be known for more than his dedication off of the field.
"Just trusting the process, trusting my coaches," Ehambe said, "and just continuing to work hard."