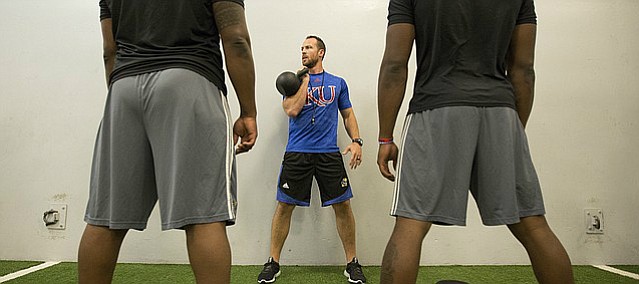 The message on the T-shirts of the athletes grabbed the attention of visitors to the Kansas football program's weight room during a recent workout session for the offensive and defenisve linemen: SAVAGE MINDSET.
Uh-oh, get ready for primal screams and a drill sergeant who if he had his druthers would wear a furry bear hide and carry a giant club to work every day.
First impressions can mislead.
In reality a lab coat would suit Zac Woodfin, in his first season as football's strength and conditioning coach and the fifth man to hold the job in the past nine seasons, far better.
On the caveman-to-scientist continuum onto which people in his position fall, Woodfin stands way down it toward the pure-scientist end of it.
He seemingly explains to the athletes the science behind every prescribed move in the weight room, the dining room and the great outdoors, where players partake in dynamic stretching and running.
Woodfin blends his experience as a college football player, knowledge gained as an exercise science major at UAB, a strength and conditioning instructor for professional athletes and Olympians for four years, a three-year stint with the Green Bay Packers, heading the UAB's football strength and conditioning staff and then serving Southern Miss in a similar role.
A native of Prattville, Ala., Woodfin graduated from UAB in 2004 after becoming the leading tackler (372 for his career) in school history.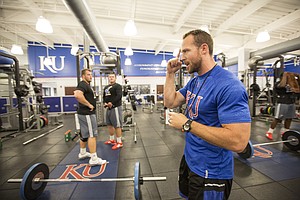 In his first season at Southern Miss, Woodfin played a role in the Golden Eagles improving from 3-9 in 2014 to 9-5 in 2015. For his work in helping UAB improve from 2-10 in 2013 to 6-6 in 2014, Woodfin earned Football Scoop's Strength and Conditioning Coach of the Year.
Woodfin took time from his relentless summer schedule to share the approach he brings to the job he started four months ago.
Several players said the biggest difference Woodfin has brought to the equation has been the amount of stretching done, most of it dynamic stretching, which means stretching while in motion.
It shocked their bodies at first.
"Once you get through that first week or two of it, getting out of those pains, where you can really set in and get deep and really involve yourself in the stretch, now it's a complete difference in how you feel leaving the weight room, how you feel at home sitting in bed," said junior center/guard Jacob Bragg. "I don't feel sore anymore. I don't have any back pain anymore. I'm sure a lot of guys are like that, a lot less daily aches and pains. He takes the time and his staff is dedicated to preventing injuries and staying healthy."
Woodfin targets four areas of improvement in each player on the Kansas football roster and calls them the four pillars: mindset, movement, nutrition and recovery.
Mindset
"If you teach the mindset well, and our guys get this, it will set the stage for everything else," Woodfin said. "If your head's right everything else should follow."
He breaks mindset into three categories: a) belief; b) overcoming adversity; c) positive energy.
"You have to believe not only in yourself but in your team's ability to have success and to win championships," he said. "If you truly, truly believe that you can be great and your team can be great that will set the stage for the movement, for the nutrition, for the recovery. If you believe you can be great then you are going to fight to get to greatness. You're going to do all the little things that greatness requires."
Woodfin said he has been more than impressed with the degree of buy-in from the players in what he's teaching, which is, "trying to get them to believe in themselves, believe in what we're doing training-wise, that's buy-in, getting them to buy into the training believe that it's helping them become the best, it's helping them move, believe that it's helping them become a better athlete, they can feel themselves becoming better football players.
"That's the only reason we train, to be better at football. Not for numbers. Not for looks. To help Kansas football have success."
Woodfin polices how players overcoming adversity.
"We put them in really adverse situations and see how they respond. Sometimes they respond by getting negative, and we address that right away. We talk about this whole mindset of when something bad happens don't focus on what negative just happened, focus on being at your best the next play," Woodfin said.
He preaches positive energy and said that head coach David Beaty's abundance of that trait was one that attracted him to working at Kansas.
"Positive energy is a mindset," Woodfin said. "When bad things happen, when I don't feel good, when I'm tired, am I a negative person? Am I a complainer, which makes the whole group down, or do I always look for ways to find a positive light?"
He used a player jumping offsides as an example.
"Do I go over and rip him? Or do I say, 'Come on, let's go, you're better than that.' There's a very different reaction to when you go negative at somebody than when you come positive," Woodfin said. "When a whole team is focused on being positive, regardless of what happens, you can really have some success because you never get down on yourself, you just keep pushing and fighting."
Movement
The morning sessions, which start at 7 a.m. for some players, 8 for others, focus on dynamic stretching and other cardio work. The players eat breakfast after they train, and then they go to class or tutoring or go back to their rooms to relax. Lunch is at DeBruce Center and then, broken into three groups by position — linemen in one group, middle skill (linebackers, running backs, tight ends) the next, skill (wide receivers, defensive backs, quarterbacks) the next — they pack rapid-fire weight workouts into 45-minute sessions. Dead time doesn't live long in the weight room and the bass on the music is cranked to the limit.
On Wednesday, a rest day, the players do yoga under the leadership of a professional instructor. The big guys attend one session and do less challenging poses than the rest of the players so as to avoid risking injury.
"The movement pillar is about your body moving really well, full ranges of motion, moving efficiently so there are not wasted steps, no wasted energy, no wasted power," Woodfin said. "If we can move better, with more range of motion for our ankles, our hips, our upper back, then when we learn the mechanics of how to move and change direction properly we're going to become much better athletes because we're going to be able to run faster, we're going to be able to change direction more efficiently because we're going to be able to get in and out of body positions quicker or get deeper into certain positions, and so mobility and flexibility is part of moving well."
Increased agility enables athletes to get into position to make more plays. It also plays an important part in injury prevention.
"If you're really stiff and really tight, then your ability to change direction, your ability to really open up your hips and run fast will be limited," Woodfin said. "And then your ability to resist and fight injury will also be limited because when you're stiff your muscles are really tight and they're really short, so a short, tight muscle, when forced in a game to go long, it can snap.
"If it's been put through longer ranges of motion in training and it's long and strong, then when you find those positions, then who knows what position you might end up in a game or in a practice because this game is so violent, and just chaotic. Well, your body's felt that before, it's been in that range of motion before, and so now your body recognizes it's not an unfamiliar length or position, so it's just normal."
Starting left tackle Hakeem Adeniji said he feels as if he will bring not just a bigger body into next season than as a true freshman but a body with smoother movement to it.
"I just feel a lot more mobile, have a lot more strength in certain areas, which I didn't have before and I feel a lot more loose and flexible and I feel like that's going to translate a lot when we step on the field," Adeniji said. "Being able to have more power, being lower and having the leverage is going to help."
Nutrition
"The most simple nutrition education I've ever given to anybody is if it's walking or growing on this earth, that's what you should eat," Woodfin said. "Simple as that. That's what God put on the earth for us to eat. Everything else was created in a factory with chemicals and wasn't truly designed for the human body to eat and a lot of it's addictive, because it tastes so good."
He used the items that came in his box breakfast as examples of what he meant.
He started by picking up a roll and said, "This never grew and it never walked, so what does that mean? It's processed. So I'm not going to eat this. This, if they're real eggs, at some point was walking, a chicken. This (sausage) was a pig at one point. That (fried potatoes) was growing at one point, then it was fried, probably with a lot of vegetable oil, which is processed."
So he ate the eggs and sausage and passed on the roll and fried potatoes.
"Processed foods are what is killing America through all these diseases that stem from inflammation," Woodfin said. "Lot of cancers, they're tracing back to inflammation."
Recovery
"Sleep is No. 1," Woodfin said. "That's when your body will repair any of the breaking down of muscle tissue. That's when your brain will release growth hormone, which is what a lot of people will take illegally. Your body produces that naturally but only if you get in a deep sleep."
He listed other means used in recovering from workouts.
"We use hydrotherapy, hot and cold tubs, and that is just to try to reduce inflammation, mobility, stretching, relaxing the body, the nervous system, for example, staying off your feet," he said. "We have food that helps them recover. If we eat well and we hydrate well, it helps our body regenerate itself at a faster rate. Recovery is all about doing the things that give us the best chance to be consistent. What I like to say is work plus rest equals success."
Too much can be just as counterproductive as too little.
"We definitely want to be known for blue-collar, hard work, but if all we do is grind our kids all the time, 'Work, work, work, work," we're going to flatten out and we're going to over-train and we're going to end up getting hurt and we're not going to be able to utilize their full potential," Woodfin said. "We want to teach them to be able to have a switch. Work savagely when it's time to work. Mentally, just be a monster, then be able to rest and recover so you can come back every day and be that monster. Because if you just work guys to a pulp then eventually they'll just be dead. You don't want that, and you definitely don't want that in the season."
He used a thoroughbred analogy to make his point.
"We want to show up to every Saturday refreshed," he said. "We want to work hard during the week but we want to have the right balance where we show up for the game ready to play at your highest level and highest level means your brain is sharp, crisp, and your body is rested. Like the Kentucky Derby, those horses show up ready to race. They train them hard, but as they're getting ready for the Derby they're massaging them. They're petting them."
"We want to go in ready. If we're just beat to a pulp mentally and physically we'll never perform to our highest potential. That's recovery."
Recovery at the day's end makes fertile ground for the savage mindset to take root the next day.