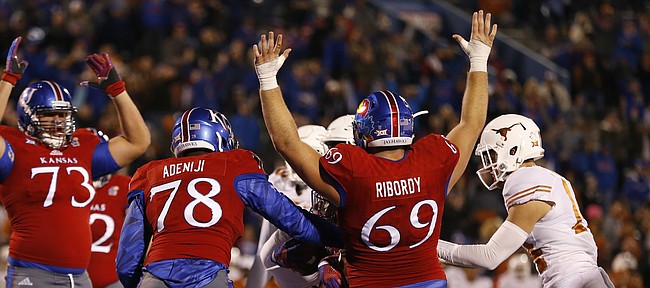 A pair of Class of 2015 offensive linemen from Kansas, one from Louisburg, the other Overalnd Park, didn't receive any scholarship offers to play Div. I-A football and read those snubs the same way.
Mesa Ribordy and Hunter Saulsbury, who occupy the top two spots on the Kansas depth chart at center, could have accepted any of the many Div. II scholarship offers or in Ribordy's case Div. 1-AA, and not had to pay for any of their educations.
The lack of offers was telling them they weren't Big 12 athletes. They were convinced everyone else was wrong and that they knew better. It turns out they were right.
Ribordy made 11 starts in 2016, his red-shirt freshman season, didn't blow a snap in five starts at center and made seven starts at guard. Saulsbury appeared in seven games as a reserve center and special teams player.
They serve as proof that the more aggressive approach to recruiting in-state walk-ons insisted on by head coach David Beaty and executed by director of high school relations Gene Wier, defensive coordinator Clint Bowen and other assistant coaches, already is paying off for the football program and the walk-ons who believed in themselves.
Ribordy paid for school during his redshirt year and will have the final four years of his education paid for with a football scholarship. Saulsbury paid for the first two years and will have the final three years paid for by a scholarship.
So Ribordy gets five years for the price of one and could be well down the road toward an advanced degree by the end of his stay at KU. For Saulsbury, it's five years for the price of two.
New strength and conditioning coach Zac Woodfin called Ribordy, "a good, solid, blue-collar workhorse guy who I would say most people on that O-line would say is the leader, just being in that center position being responsible for a lot of the communication and the way he handles that.
"He's a lot like (guard/center Jacob) Bragg and Saulsbury. No nonsense, work, work, work. Strong, dependable smart."
Turning down a scholarship in favor of walking-on at a school that plays at a higher level of competition has its risks. Ribordy and Saulsbury gambled on themselves and won.
"Mesa earned his way to a scholarship and that's what coach (David) Beaty is all about," Woodfin said. "You have to earn everything you get. Mesa represents that fully. He's been having a great summer, really great, bending well, strong. Hunter's a guy I see working his way into getting time with us because he's so consistent, so focused and he's a physically strong dude. He's really locked in tight with Mesa and I think Mesa's influence is rubbing off on him. Mesa's a workhorse guy, never complains, never backs down from a challenge and he's really helping Hunter."
Saulsbury summed up Ribordy: "He plays aggressive and mean and he's smart on the field."
Ribordy on Saulsbury: "I think he's really smart. He knows where to go. He communicates really well with other guys in setting up assignments and making the calls."
Ribordy injured his knee early in spring football but said he has fully recovered and is working out without any restrictions. Saulsbury impressed coaches with how well he handled the position during Ribordy's absence.
Kansas State has won many games with walk-ons who played their way into scholarships during Bill Snyder's two stints at the school and Beaty, heading into his third season of a challenging rebuilding project, is off to a good start with that approach.
More like this story on KUsports.com