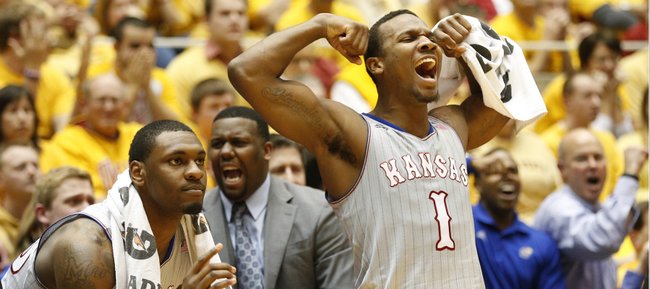 While the moves might not have carried the same splash as Paul George being traded to Oklahoma City or Chris Paul going to the Houston Rockets, the first official day of NBA free agency 2017 featured some news involving a couple of former Jayhawks.
First, the good.
After emerging late last season as a viable option in their backcourt, the Memphis Grizzlies signed Wayne Selden Jr., to a two-year contract, per Basketball Insiders. Selden later Tweeted out the news and his appreciation.
"Blessed to officially be a part of the Grizzlies family & organization" Selden wrote. "Thank God for the opportunity. Ready 2 keep workin & gettin better."
A former undrafted free agent who began his career in the NBA's D League and played in just 14 games with the Grizzlies last season, Selden was on a partial contract with Memphis but now will move forward into summer league action and beyond with more security and a solid spot on their roster.
Terms of the deal were not disclosed.
Selden made five starts for the Grizzlies in limited time, including two in the playoffs against San Antonio.
While Selden was getting good news, a former Selden teammate was getting bad news. One-year Jayhawk Tarik Black, who carved out a solid role with the Los Angeles Lakers during the past couple of seasons, was waived by L.A., according to Marc J. Spears of ESPN's The Undefeated.
Black, who appeared in 144 games with the Lakers during the past three seasons, including 43 starts, averaged six points and three rebounds in 17 minutes per game during his time in Hollywood.
As a cap-friendly option with good experience, athleticism and a team-first mentality, many NBA analysts believe the chances are good that Black will catch on with another team and provide frontcourt depth for his new squad the way he did the Lakers.
Mason's first pitch a strike
For the second time in the past 11 months, former Kansas star Frank Mason III was on the Kauffman Stadium mound throwing out the ceremonial first pitch before a Kansas City Royals game.
The first time, last August during KU Day at The K, Mason fired his pitch to teammate Devonte' Graham but watched it bounce before getting to the plate.
Saturday, with a chance at redemption, Mason zeroed in and fired a pitch over the plate that may have just caught the lower edge of the strike zone.
Mason, who lamented bouncing the pitch last August, seemed pleased and appreciative about the opportunity to redeem himself.
"Thx 4 the love KC this weekend," Mason Tweeted. "Will miss y'all but will be back soon."
Walters promoted
Former Kansas guard Rex Walters, who has coached both college and professional basketball during his post-Kansas life, recently was added to the Detroit Pistons coaching staff, per a team release.
Walters, who coached the Grand Rapids Drive in the NBA's Developmental League last season, also served as the head coach at the University of San Francisco for eight seasons following a seven-year stint as an NBA player with New Jersey, Philadelphia and Miami.
Walters will serve as a full-time assistant to Detroit head coach Stan Van Gundy.
"Rex brings great basketball knowledge and experience and does a great job of developing young players," Van Gundy said in a team statement. "We were very happy with the way he worked with our young Pistons players last season when they were on assignment in Grand Rapids."
Walters' addition to the Pistons' staff will give him the opportunity to work with former KU star Marcus Morris.
More like this story on KUsports.com