For all the havoc expected to be produced by the Kansas football team's defensive line this coming fall, move a level back on the Jayhawks' defense and you'll find a less heralded unit accompanied by more reservations then presumptions.
Not one senior will play linebacker for KU in 2017. Nevertheless, the veteran of the unit, redshirt junior Joe Dineen, who was granted an extra season after an injury-shortened 2016, thinks the group is up for the challenge of supporting the defensive studs, such as Dorance Armstrong Jr. and Daniel Wise, who play in front of them.
"We are young and somewhat inexperienced," Dineen admitted in a recent appearance on KLWN's Rock Chalk Sports Talk, "but we have a lot of guys that can play."
Dineen, a team captain who missed the final nine games this past fall due to a severe hamstring injury, has 12 starts on his résumé. His former Free State High teammate, Keith Loneker Jr., started four times in Dineen's absence. But beyond those two, position coach Todd Bradford finds only unseasoned options when looking to fill the two linebacker spots utilized in coordinator Clint Bowen's defense.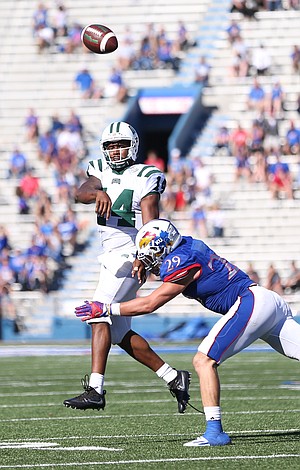 Kansas will need junior linebackers Dineen, Loneker, Denzel Feaster and Osaze Ogbebor to step up in the months ahead. Behind the scenes, Dineen said redshirt freshman Dru Prox and true freshman Kyron Johnson, who graduated high school early in order to join KU for spring football, have looked capable of contributing, too.
"All these guys can play, and it'll do really good for us to have some depth there," Dineen said. "Coach Bradford's done a great job with us, just teaching us mechanics and stuff like that. But I think we'll rise up this year. I think we'll be better than we were last year and really complement our defensive line and hopefully help out in the secondary."
The depth chart at linebacker is far from being decided, but early reviews from his teammates indicate Johnson, a three-star prospect form Arlington, Texas, could factor in as a true freshman.
KU running back Khalil Herbert encountered Johnson, listed at 6-foot-1, 210 pounds, plenty of times in the spring, and described him as "faa-ast." Enrolling early at KU, Herbert added, should help the newcomer's trajectory.
"Just working with him I see a big difference," Herbert said of Johnson's progress since January. "That speed is a big difference in the Big 12. So I'd like to see what he's going to do this year."
Tight end Ben Johnson, too, referenced Kyron Johnson when asked about linebackers who stood out over the past several months.
"He needs to put a little bit of weight on, but he's getting there," Ben said of Kyron. "He's getting a lot thicker. And I know he can move, because I went against him all spring."