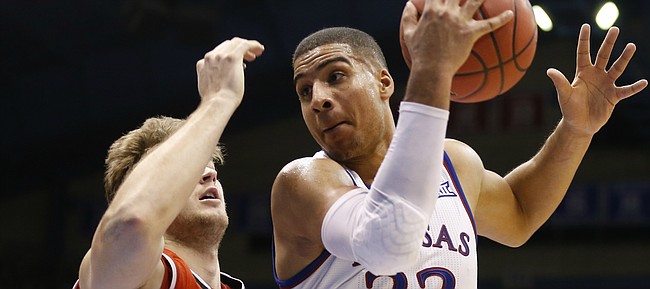 He's coached him for five years, started him for part of three of those and seen him develop into an absolute rock on and off the court.
But it was not until Monday's weekly Kansas basketball press conference that Kansas coach Bill Self revealed a bit of a nickname for senior forward Landen Lucas.
"He's like your binky or your security blanket," Self said of KU's 6-foot-10, 250-pound big man. "I mean, he's a guy that no matter how bad we want to (play someone else over him and) think, you know what, if we could just get somebody else, we haven't found anybody as good or better. He's been good. I mean, he's been really good."
A starter for 48 career games, including 15 of 20 this season, Lucas' role with the Jayhawks often has been easy to overlook. There's nothing flashy about his game. His offense is slow and methodical and lacks the explosive element that lands on SportsCenter. And, defensively, even though his ability to wall up and alter shots has turned him into one of the best big-man defenders in the country, Lucas' inability to consistently block shots into the fifth row also has kept him a little under the radar.
Self's plans for Lucas to develop into a program player when he recruited him have been well documented and it's possible that neither Self nor Lucas ever really saw him becoming the vital piece of the puzzle that he is today.
But that time has arrived. It's going on two years now. And it will be as important as ever at Allen Fieldhouse Wednesday night, when Lucas and the third-ranked Jayhawks play host to No. 2 Baylor at 8 p.m., with the winner moving into sole-possession of first place in the Big 12 Conference.
"Landen is a guy that, when we recruited him, we thought could be a rotation guy in time," Self reiterated on Monday. "I talked to his dad, I talked to Landen (and said), we'll redshirt him freshman year, won't play him. Maybe by the time the end of his sophomore year he can be in the rotation. Well, by the end of his sophomore year, he was a starter, and then last year he wasn't a starter. We were looking kind of for something else, and what did we come back to? Landen. This year he was starting, and then we kind of went a different direction because we didn't think he was playing very well, and what did we come back to? Landen.
"I mean that with all sincerity and seriousness and in a complimentary way towards Landen, but when you coach at a place like Kansas or Duke or North Carolina or Kentucky, you're always thinking recruit these high, high-level guys, and you want to do that. But sometimes when you recruit high, high-level guys, people forget they've still got to beat out somebody that's damned good, that's been here and experienced and that kind of stuff."
Lucas is that guy. And even though he operates with an even-keeled demeanor and is not the type of player who needs the extra pat on the back or super-sized headlines to do his job, Self said it was worth noting that Lucas has been one of the more under-appreciated Jayhawks to play in the Big 12 during recent years.
"I told our guys after the (Kentucky) game, I said, 'You know what, if I tell you I'm proud of you, you'll mistake kindness for softness, so I'm not going to do it, OK?,'" Self began. "It's the same way with him. I probably don't tell him as much, but he's as appreciated as any kid that we've ever had here. He's smart. He's so good with (the media). He's intelligent. He has done everything we've asked him to do, even when the fan base may get onto him because he can't finish as well and all this stuff, but he just keeps coming back."
On a team with a national-player-of-the-year candidate, in Frank Mason III, and potential freshman-of-the-year contender, in Josh Jackson, Lucas has emerged as arguably the most important player in a Kansas uniform.
A big part of the reason for that is KU's lack of depth at the position he plays. But to leave it at that is to undersell Lucas' importance. Kansas will need him big time tonight against Baylor, which brings 6-10 junior Johnathan Motley and 7-foot junior Jo Lual-Acuil Jr., among others, to Lawrence looking to use their size, athleticism and length to seize temporary control of the Big 12 race.
Mason, Devonte' Graham, Josh Jackson and other Jayhawks no doubt will factor into the outcome. But because of Baylor's strengths and KU's lack of depth, it's hard to make a case for any of them being as critical as Lucas.
And even though the identity and strengths of KU's opponents will change the rest of the way, it's hard to imagine the Jayhawks' reliance on Lucas shifting much at all.
"Who would have ever thought we would have recruited a guy that everybody would say, 'How are you going to win if Landen gets two fouls in the first half,'" said Self, incredulously. "That's how important he is to us. So that's about as complimentary as I can be towards anybody."
More like this story on KUsports.com