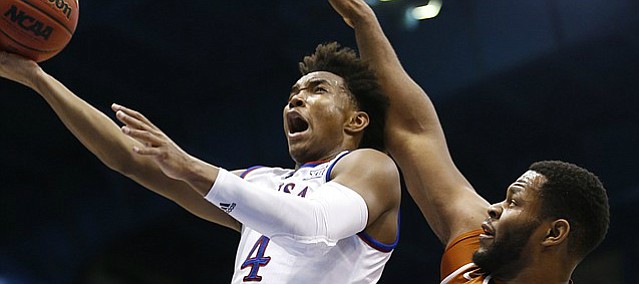 No. 3 Kansas Jayhawks (19-2 overall, 7-1 Big 12) vs. No. 2 Baylor Bears (20-1, 7-1)
Time: 8 p.m. | Location: Allen Fieldhouse, Lawrence, Kansas
TV: ESPN | Radio: IMG Jayhawk Radio Network
Log on to KUsports.com for our live game blog coverage and follow the KUsports.com staff on Twitter: @KUSports @mctait @TomKeeganLJW @bentonasmith & @nightengalejr
Keys for Kansas
1. Gotta score 70 (or more)
Baylor's seven Big 12 victories all had one thing in common — the Bears' opponent did not reach the 70-point mark when the final horn sounded.
Kansas, which enters the game averaging 84.3 points per game, has shown no problem scoring at home this season and tends to play at its best when running the floor, firing away from 3-point range and putting points on the board.
Doing so against Baylor, which leads the Big 12 in scoring defense (61.1 points per game against, tied for 7th nationally), will be among the Jayhawks' biggest challenges this season.
"A lot of times teams have an identity," KU coach Bill Self said Monday. "We're still trying to find ours, but their team identity is they don't let people score. That is what they do. So we're going to have to run really good offense."
Baylor's lone Big 12 loss came against West Virginia, which dropped 89 points on the Bears. And BU's close call at Ole Miss in the SEC/Big 12 Challenge last weekend saw Mississippi reach 75 points.
2. Get in the zone
Given the fact that the Jayhawks have played some form of zone defense in the past two games, it seems likely that Kansas could make it three in a row against Baylor.
Whether that's a traditional 2-3 zone, something more gimmicky, like a box-and-one or triangle-and-two, or even some sort of match-up zone that shows different looks and aims to confuse the offense, the Jayhawks' ability to change defenses and avoid relying too heavily on their preferred man-to-man D figures to be a factor in this one.
It may only be a few possessions here and there and it may come only if the Jayhawks get behind and need to find a spark to change things up the way they did with the 2-3 zone at Kentucky.
Either way, KU has proven that it is both willing and able to manage playing a variety of zone defenses and in games as big as this one, the ability to shift to zone to protect against foul trouble and eliminate the effects of fatigue could be an advantage for the ever-evolving Jayhawks.
3. Mental toughness
With several off-the-court issues continuing to dominate headlines, the Jayhawks who are playing still have a job to do and have to shelve the distractions and focus on the task at hand.
Easier said than done, to be sure, but Self said he was pleased by the way his team conducted itself in a tough environment at Kentucky, and doing so at home should be much more manageable.
It's not just the non-basketball trouble that demands KU's mental sharpness. Self said Monday that the Jayhawks also need to remember to flip the switch back to Big 12 mode after taking an intense and highly enjoyable break from conference play at Kentucky last weekend.
"I think so. I think you have to address it," said Self, when asked about revisiting the team's mental approach. "You know, to me, and I've said it all along, I said, the Kentucky win wasn't as big as the West Virginia loss, and certainly if (we) don't play well on Wednesday, then it totally negates the good that the Kentucky game did."
Mega Matchup
Johnathan Motley vs. Landen Lucas
Kansas big man Landen Lucas did a masterful job of slowing down and standing up to Kentucky freshman Bam Adebayo during the Jayhawks' victory over the Wildcats last weekend. His reward? An upcoming battle with yet another ultra-talented big man in Baylor's Johnathan Motley.
Motley, who leads the Big 12 in offensive and defensive rebounding and ranks fifth in the conference in scoring (16.2 points per game), brings an entirely different skill set to the table than Adebayo.
Gifted in more ways than one, Motley will force Lucas to play both in the paint and away from the basket and his ability to hold up — both in terms of foul trouble and fatigue — could go a long way toward determining the outcome of this Big 12 showdown.
"Anybody that has had games where he's had 30 (points) and 20 (rebounds) in a game tells you how talented he is," Self said. "That's hard to do. But he can score. He can rebound. He can do a lot of different things, and he can face and shoot. He's a great passer. And certainly he can score with his back to the basket. It'll be a big challenge for Landen and our other big guys."
Jayhawk Pulse
It's rare that the game after Kansas-Kentucky can have more meaning and more impact on the KU faithful, but it's possible that this one will.
Mired in a stretch of big, high-profile intense games, the Jayhawks are back in Allen Fieldhouse for the first time in nearly two weeks and will be playing for their familiar spot in the Big 12 driver's seat.
That alone makes this a big one. But we've seen supposed big games between Kansas and Baylor turn into duds before. What makes this one bigger is the fact that it's just the fourth Top 5 showdown at Allen Fieldhouse in the Self era and the Bears are just the eighth Top 5 team to come into Lawrence during that same time.
The three other Top 5 clashes during that stretch — all Kansas victories — include: No. 2 KU knocking off No. 5 K-State in 2010; the final Border War game with Missouri in 2012; and last season's triple-overtime thriller with Oklahoma.
The belief within the program is that last weekend's blue-blood battle in the Bluegrass State was the perfect primer for another big time Big 12 battle.
"I think it's good to play a good team like Kentucky to get prepared for Baylor," KU senior Frank Mason III said. "Even though they play different, I think it's still great that we got a chance to go against the size that Kentucky has and we (got) to experience that before we actually play Baylor."
Probable Starters
No. 3 Kansas
G – Frank Mason III, 5-11, 190, Sr.
G – Devonte' Graham, 6-2, 185, Jr.
G – Josh Jackson, 6-8, 207, Fr.
G – Sviatoslav Mykhailiuk, 6-8, 205, Jr.
F – Landen Lucas, 6-10, 250, Sr.
No. 2 Baylor
G – Manu Lecomte, 5-11, 175, Jr.
G – Al Freeman, 6-3, 200, Jr.
G – Ish Wainright, 6-5, 235, Sr.
F – Johnathan Motley, 6-10, 230, Jr.
F – Jo Lual-Acquil Jr., 7-0, 220, Jr.
More like this story on KUsports.com