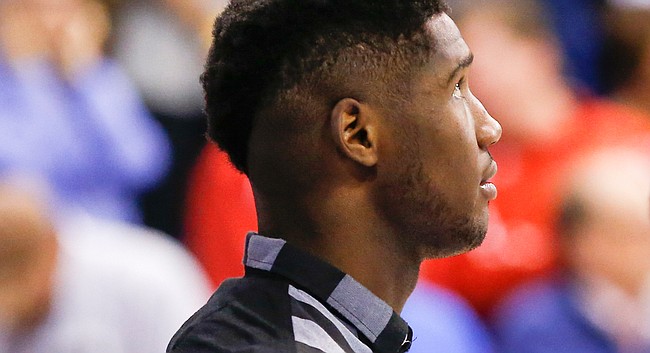 University of Kansas men's basketball player Carlton Bragg Jr. is the person charged with possession of drug paraphernalia in a case stemming from a rape investigation at the team's dorm.
KU police said Friday that they sent the case to Lawrence Municipal Court, which confirmed the charges on Monday.
Bragg is charged with one count of possession of drug paraphernalia, a misdemeanor, and is scheduled to appear in municipal court on Feb. 14, according to the court clerk's office.
During the KU police department's investigation of the alleged sexual assault at McCarthy Hall and a subsequent search, drug paraphernalia was found, KU Police Chief Chris Keary said. He reiterated on Monday that there was no indication the drug paraphernalia is related to the sexual assault allegation.
McCarthy Hall, 1741 Naismith Drive, is the on-campus apartment building where the basketball team lives along with other upperclass male students.
The police report in the rape case indicated four crimes had occurred at McCarthy Hall between 10 p.m. Dec. 17 and 5 a.m. Dec. 18: a rape of a 16-year-old girl, contributing to a child's misconduct, furnishing alcohol to a minor and possession of drug paraphernalia. The rape was reported Dec. 18.
Keary said the drug offense in that report was removed and made into its own report, the one that led to the charge against Bragg.
The rape investigation remains open, and police have released no information about a possible suspect, including whether the multiple alleged crimes are linked to a single offender, Keary said. Police have said the victim, who was not a KU student and not from this area, was visiting residents in the building. 
A runaway juvenile also was reported at McCarthy Hall the morning of Dec. 18, but police would not confirm whether the runaway and the reported rape victim are the same person.
All five witnesses named in the police report for the rape are basketball players. The single witness named in the runaway report is Bragg.
Police have not shared why those individuals were interviewed, but have said being a witness in an investigation does not necessarily mean an eyewitness to a crime, but rather someone who may have been in the area or who may have other pertinent information to the investigation.
Bragg, 21, is a sophomore from Cleveland.
KU men's basketball coach Bill Self suspended Bragg from the team indefinitely Thursday night, citing a violation of team rules. Self emphasized at the time that the suspension was not connected to the McCarthy Hall rape investigation.
Speaking at the team's regular weekly news conference on Monday, Self did not directly confirm that the team rules violation was Bragg's possession of drug paraphernalia charge. However, he said the suspension occurred last week when he was made aware that there was a violation.
"You guys can add two and two," Self said. "He's been suspended for violation of team rules, and when we found out about it, then we acted on it immediately."
Bragg did not play in Saturday's game at Kentucky.
Asked what factors would play into his decision about how long to keep Bragg suspended, Self said those discussions would happen behind the scenes.
Self said he had no timetable other than that Bragg definitely would not play Wednesday against Baylor.
"Whether or not he plays after that, I don't know," Self said.

Have a tip or story idea?
---
More stories