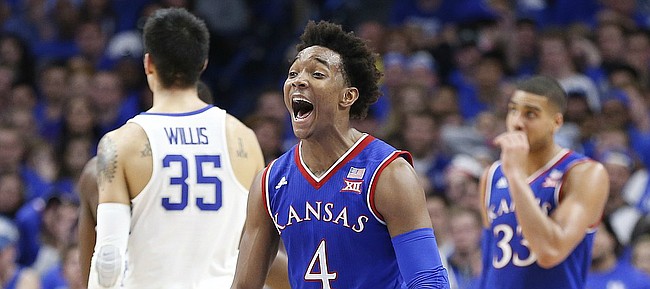 A rare loss and a massive road victory added up to Kansas dropping just one spot in the latest Associated Press college basketball poll.
After three straight weeks at No. 2, the Jayhawks only fell to No. 3 after losing at West Virginia and winning at Kentucky.
Gonzaga, the last unbeaten team in Division I, moved to No. 1 for the second time in school history.
The Zags (22-0) jumped up from third when Villanova and Kansas both were beaten in a week when seven of the top 10 lost.
Gonzaga received 46 first-place votes from the 65-member national media panel Monday. The Zags were No. 1 for the last three weeks of the 2012-13 season.
Gonzaga is the fifth team to reach No. 1 this season joining Duke, Kentucky, Villanova and Baylor.
Baylor (20-1), one of the three top 10 teams to not lose, jumped from fifth to second. The Bears had six first-place votes and were one point ahead of Kansas (19-2), which dropped one place. The Jayhawks had nine first-place votes.
Villanova, which had been No. 1 for the last two weeks and six overall, dropped to fourth after losing at Marquette. The Wildcats (20-2), who also had a last-second win over Virginia, were No. 1 on four ballots.
Two of the top three teams in the country will square off Wednesday night at Allen Fieldhouse, when No. 3 KU welcomes No. 2 Baylor to Lawrence.
AP Top 25 — Jan. 30, 2017
No. 1: Gonzaga
No. 2: Baylor
No. 3: Kansas
No. 4: Villanova
No. 5: Arizona
No. 6: Louisville
No. 7: West Virginia
No. 8: Kentucky
No. 9: Virginia
No. 10: Wisconsin
No. 11: UCLA
No. 12: North Carolina
No. 13: Oregon
No. 14: Cincinnati
No. 15: Florida State
No. 16: Butler
No. 17: Maryland
No. 18: Saint Mary's
No. 19: South Carolina
No. 20: Notre Dame
No. 21: Duke
No. 22: Creighton
No. 23: Purdue
No. 24: Florida
No. 25: Northwestern
More like this story on KUsports.com