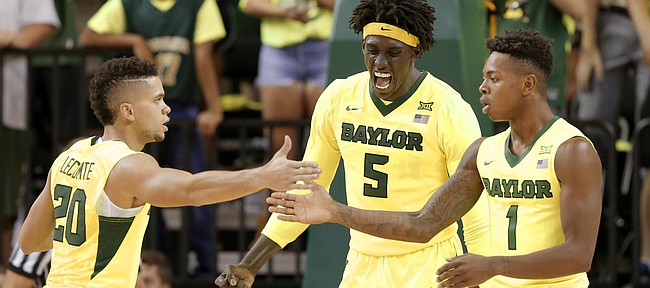 When No. 2 Baylor comes to Lawrence Wednesday night to face No. 3 Kansas — 8 p.m. on ESPN — a lot of the focus will be on Baylor's big men and how the Jayhawks will handle them.
Junior forward Johnathan Motley (6-foot-10, 230 pounds) and junior center Jo Lual-Acuil Jr. (7-foot, 220) have their names scattered throughout the Top 10 of various statistical categories in the Big 12 Conference, with Motley's 9.6 rebounds-per-game average leading the conference (offensive, defensive and total) and Lual-Acuil tops in the Big 12 in blocked shots (2.8 per game).
While those two big bodies — and others — figure to pose yet another monster challenge for Kansas senior Landen Lucas, who stood tall in a tough match-up with Kentucky last weekend, the Bears' front court is far from the only area where the Jayhawks could have their hands full.
Baylor point guard Manu Lecomte (pronounced Man-ew La-connt) has been one of the biggest surprises of the 2016-17 season. He also has played a huge part in Baylor racing out to a 20-1 start (7-1 in Big 12 play) and climbing to the top of the national polls, for one week at No. 1 (Jan. 9) and back up to second on Monday.
A transfer from the University of Miami (Florida) who sat out the 2015-16 season, Lecomte has started all 21 games for the Bears at point guard this season and enters Wednesday's showdown with Kansas (19-2, 7-1) averaging 12.3 points, 4.4 assists and shooting .412 from 3-point range.
Flashy, confident and playing like he's been in the conference for years, Lecomte has proven to be the perfect complement to Baylor's litany of explosive athletes around him.
"I've watched him a lot," said KU point guard Frank Mason III, who revealed earlier this season that he tries to catch every Big 12 game on tape or television. "He's a good player, does a good job of running the team and getting other guys involved. And it's just not him. They have a good team and I'm excited to get matched up with them on Wednesday."
The starting role is nothing new for Lecomte, a native of Belgium. During his two seasons with the Hurricanes, the 5-foot-11, 175-pound guard started 40 of 71 games for Jim Larranaga's squad while filling up the stat sheet in similar ways.
With so many Big 12 teams led by point guards who have been mainstays in many Big 12 basketball conversations during the past few years, Wednesday's clash will provide Mason with his first opportunity to face the new kid on the block.
Asked if he was looking forward to the challenge of battling new blood, Mason said he was far more interested in the team game than any individual match-up.
Similarly, KU coach Bill Self, when asked what made the Bears go, had trouble limiting his answer to any one area.
"They're a total team," Self said of Baylor. "They're longer up front with their bigs and their depth up front, and I think their zone is probably better than it has been, but they're playing more man now, too. I just think they're a better team. They're so deep up front, and then their point guard has had a terrific year, and then you've got Ish (Wainright) and you've got (Al) Freeman and all those other guys with experience on the perimeter.
"(It's) not very often you have a chance to host a Top-5 team at home," Self said. "We were able to do that last year in an epic game (vs. Oklahoma) and I'm sure this one will be a hotly contested game, as well."
More like this story on KUsports.com