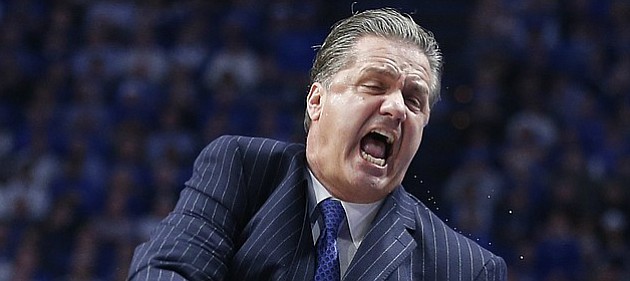 Lexington, Ky. — Kansas basketball coach Bill Self's decision to change defenses did more than help Landen Lucas deal with foul trouble, slow down speedy Kentucky and make Bam Adebayo work in a crowded place.
It gave the talented, young Kentucky guards something to process and sometimes the harder the mind has to work the slower the body moves.
"It worked great," Kansas front-court reserve Dwight Coleby said of the 2-3 zone and triangle-and-two defenses the Jayhawks employed at times in Saturday night's 79-73 victory. "We won the game because of it."
Self said nobody will be studying tapes of the game as models of how to play zone. So what? The strategy worked because it made the Wildcats hesitate.
"They didn't know what to do with it and it worked out," Coleby said. "They were kind of confused on what to do and they kept looking at their coach for what to run. We kept changing it up and it confused them."
Experienced guards know how to dismantle zone defenses, which will benefit Kansas because of the savvy of its Towson/Appalachian State backcourt tandem, one that knows how to use freshman Josh Jackson's to ability pick holes in zones with passes from the high post. Kentucky's lottery picks in waiting, De'Aaron Fox and Malik Monk, can blow by man-to-man defenses all the way to the NBA and might not ever grow as comfortable against zones in their short time in college.
It takes time to learn the nuances of attacking zones and even with a skilled teacher, one year might not be long enough.
Nobody does a better job of recruiting one-and-done talents and getting them to play unselfishly quickly than Kentucky coach John Calipari. But because he does so well at acquiring top talent, he can't rely on as many veterans to model and mentor newcomers and it becomes more difficult for them to unpack their bags and plant both feet in college basketball, blocking out the impending NBA career.
There is a downside to winning so many recruiting battles for the best of the best.
"Look, this is always a process here when you're talking young players," Calipari said. "I can remember in 2014, we were dying and then they got it at one point and all of a sudden we took off. This team came together a little bit faster, yet you find out all the execution stuff that I've been talking about will come back and haunt you, all those little things."
It's nothing Calipari doesn't go through every year.
"It's all doable," he said. "And as a coach you look at this and say, 'OK, where do we go and what do we zero in on?' And I think it's toughness and defense," Calipari said, mentioning two facets at which the more experienced Jayhawks excelled in running Self's record to 5-3 vs. Kentucky.
Few freshmen, no matter how gifted, arrive in college ready to play great defense and equipped with the knowledge of what toughness means on a basketball court.
Turning players over at such high rate almost turns Calipari into a tutor perpetually helping basketball students cram for final exams.
The job pays extremely well in both cash and psychological income from winning big, but it's not an easy one.
"Look, I hate losing," Calipari said after his second consecutive loss. "But I think there are a lot of people that wish they had my problems."
True enough. Calipari, who coached UMass and Memphis to the Final Four, will try to take Kentucky there for the fifth time in his seven seasons at the school that he coached to the national championship in 2012.