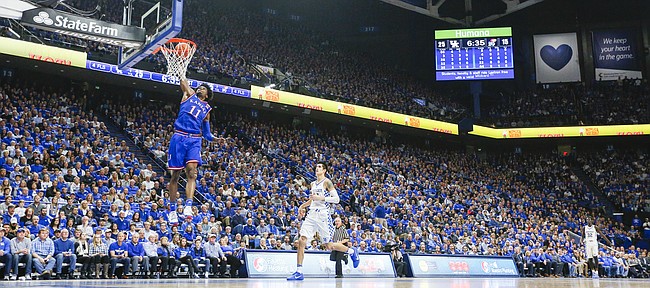 Facing a couple of familiar friends from his AAU days, Kansas freshman Josh Jackson dropped 20 and 10 at Rupp Arena on Saturday night and helped lead No. 2 Kansas to a 79-73 victory over fourth-ranked Kentucky and fabulous freshmen Malik Monk, De'Aaron Fox and Bam Adebayo.
Asked after the victory how it felt to go head-to-head against guards Fox and Monk on a stage far bigger than any the trio ever experienced during their prep days, the still-smiling but ever-composed Jackson talked more about the experience and less about his team's good fortune.
"It's a lot of fun," Jackson said. "Both those guys are great athletes, great players. The thing I really like about them is they're both competitors. They really want to win and I knew it was gonna be a fun game coming out. I knew neither side was gonna give up no matter how much the other team went up. It was gonna be a fight to the end."
On a night when big time players made big time plays for both sides, Jackson was arguably the most consistent performer. He tallied 10 points in each half, scored early and scored late, and lifted the Jayhawks both with his outside jumper and scrappy play around the basket.
His 10 rebounds were a game high and they came on the heels of a night when he grabbed just four boards in a Kansas loss at West Virginia last Tuesday. After that one, KU coach Bill Self called out Jackson for only getting four rebounds "in a big-boy game like that." Rather than pout, Jackson listened.
"I think it's just one of my jobs on the team," Jackson said. "Just always try to get to the glass, help the big guys out. Even (KU guards) Frank (Mason) and Devonte' (Graham), they go a lot too. They got some real key rebounds. It's just a team thing."
Therein lies possibly the most impressive part about what Jackson has accomplished during his lone season of college basketball. An unquestioned Top 5 pick in this summer's NBA Draft, it would have been easy for Jackson to come to Kansas, go through the motions and get out of town without ever putting down roots. But he hasn't done that.
The 6-foot-8 star-in-the-making from Detroit has made Lawrence home and, perhaps more importantly, made this Kansas team his top priority.
With Jackson, it's not about counting shots, getting his or impressing people in the stands. Those things matter. But they're all secondary to his main goal — winning.
His skills have forced the college basketball world to take notice. His personality has endeared him to the Kansas fan base. And his teammates have had a front-row seat to enjoy both.
"He's an amazing player," said fellow-freshman Mitch Lightfoot of Jackson following Saturday's win. "But an amazing kid, too. I love being friends with him."
While Jackson's demeanor does not always scream cut-throat assassin, every once in a while he has a game where he showcases his immense talent and reminds everybody watching of all of the things can do. Nearly all of it comes within the flow of KU's game plan and he never deviates from that team-first mindset. But it's there. And it shows. And it shines bright.
That night was Saturday night, in front of 24,418 rabid Kentucky fans gunning to set a world record for noise and send the Jayhawks home limping. But Jackson never blinked. In fact, he seemed to love it.
"We knew there was gonna be a point in time where we were down and trying to come back," Jackson said after the victory. "The thing that we really just had to do was keep believing in each other and never stop fighting."

Mission accomplished.