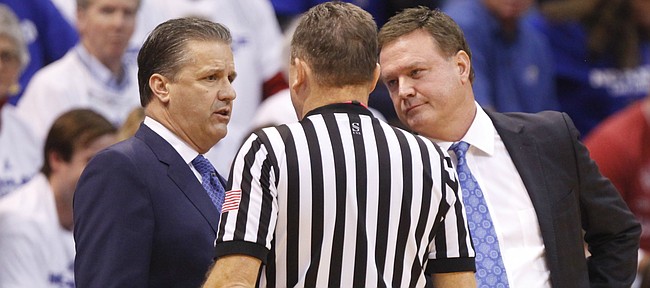 Lexington, Ky. — A case could be made that John Calipari, who in 2012 ended Kentucky's 13-year national-title drought, ranks as the No. 2 celebrity who resides in this area of the commonwealth of Kentucky. American Pharaoh, a Triple Crown winner that ended a 36-year drought, resides in an adjacent county at Ashford Stud farm.
American Pharoah eats grain and bran mush and listens to Barry White music. Calipari eats up the adulation of 23,500 strong at Rupp Arena and hears the disappointment of the crowd in those rare instances Kentucky has the gall to lose.
The track performances of American Pharoah's offspring will determine how good a fit he is for his current job, one that from a distance seems to have an emotional emptiness to it.
Calipari's work stirs all sorts of emotions and he is every bit the smooth fit for Kentucky as Bill Self is for Kansas. Rupp Arena, although neither as intimate nor charming as Allen Fieldhouse, is nearly as difficult a place to win.
In his seventh season at Kentucky, Calipari took a 42-game Rupp winning streak into a December loss to UCLA. Kentucky has won five in a row at home, giving Calipari a remarkable 129-5 record in the building named after reserve KU basketball player Adolph Rupp, who as a footnote to his career also coached basketball at Kentucky. For comparison purposes, Self's record at Allen in his past 134 games is 131-3 with a 50-game winning streak.
As most know, both men's early coaching roots reach to Lawrence. Calipari worked a year apiece for Ted Owens and Larry Brown as a graduate assistant and Self replaced him on Brown's staff.
Both coaches pull from storied traditions to market the brand and light up every recruit's living room with sharp-witted magnetic charm. Calipari's style doesn't wear as well with some.
They both know how to coax stars to play unselfish basketball. Neither is afraid to publicly criticize his team when it falls short in that area, as Calipari did after the loss to UCLA.
"Why didn't we pass it today? Because it was national television, it's my time?" Calipari said. "Well, we all look bad."
Each coach has one national title to his name and it came at the expense of the other in the title game, Self against Memphis in 2008, Calipari for Kentucky in 2012.
Not nearly as much is at stake today when Kansas plays without suspended Carlton Bragg, so neither team should play tight. What team rule did Bragg break? One possibility: He tested positive for a performance-diminishing attitude.
More like this story on KUsports.com