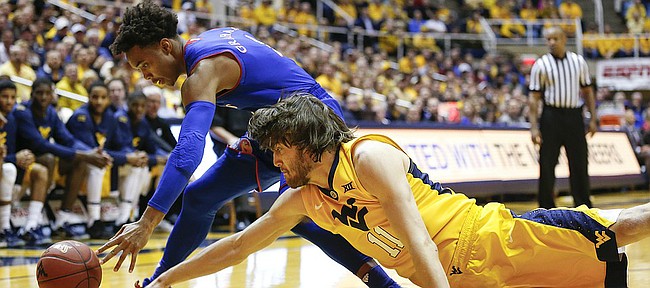 No. 2 Kansas Jayhawks (18-2 overall, 7-1 Big 12) vs. No. 4 Kentucky (17-3 overall, 7-1 SEC)
Time: 5:15 p.m. | Location: Rupp Arena, Lexington, Kentucky
TV: ESPN | Radio: IMG Jayhawk Radio Network
Log on to KUsports.com for our live game blog coverage and follow the KUsports.com staff on Twitter: @KUSports @mctait @TomKeeganLJW @bentonasmith & @nightengalejr
Keys for Kansas
1. Minimize distractions
It's been a crazy week for the Kansas men's basketball program, with the reported rape at their on-campus dormitory and the suspension of Carlton Bragg Jr., for an unrelated matter, hovering over the program and taking away from the hype and excitement leading up to Saturday's KU-UK match-up.
Kansas coach Bill Self called the off-the-court circumstances a major distraction and made it clear that both he and his team were taking the matter very seriously and having a difficult time focusing on the basketball task at hand.
"We've had obviously some things that we're dealing with since the West Virginia game that tempers probably the excitement as we see it on a Wednesday or a Thursday," Self said earlier this week. "But once the guys get out there and start working, and (ESPN's) GameDay will be there, we'll feel the energy and enthusiasm. Our guys will be very excited to play."
What's more, Self believes that getting onto the court, where his players are most comfortable and able to do what they do best, might be the best thing for the Jayhawks.
"I know that there are some people that aren't real happy right now that will, I'm sure, use the basketball court as a way to kind of get away from the distraction," he said.
The Jayhawks' ability to do that in a productive and positive manner, therein avoiding the potential for the emotions of anything away from basketball to overwhelm them, will be key in determining how this one plays out.
2. Action Jackson
These are the types of games that a player like Josh Jackson came to college to play in.
Foul trouble robbed him of his first chance at a break-out, big-stage performance at Madison Square Garden, versus Duke, in New York City back in November, and Jackson now finds himself facing a prime opportunity to capture the national spotlight and make a statement about where he belongs in the conversation of the best players in college basketball.
The Jayhawks need him to do just that, as a scorer, rebounder and defender. The thing about Jackson's game that makes him such a good candidate for a breakout performance against the Wildcats is that things come so easily to him and he has such a wide range of skills. With his competitive juices flowing and desire to help his team succeed at the highest level driving him, Jackson could find himself in position to take over this game on both ends of the floor. He'll have to play much better defense than he did against West Virginia and also will be looked to for rebounding and blocked shots.
Self has talked about Jackson having another gear he can reach and also has hinted about Jackson being oh-so-close to truly breaking out.
Frank Mason III was the hero of KU's win over then-No. 1 Duke in New York City, but if the Jayhawks hope to leave Lexington with a victory this weekend, their best bet might be riding the talents of the 6-foot-8 freshman forward from Detroit.
3. Foul trouble and fatigue
With the Jayhawks' bench depleted and Self only having one player who has played consistent minutes this season sitting next to him, staying out of foul trouble — most notably by avoiding silly fouls away from the basket and action — will be a huge factor in this game.
If Kentucky is able to get early fouls on the Jayhawks, this one could turn ugly in a hurry. Senior forward Landen Lucas, arguably the Jayhawks' most important player in this game, is well aware of that and he said that fact weighed more on his mind than worrying about wearing down.
"With the way it works and all the TV timeouts and different things, you can get through it and it's not as big of a factor as it seems to be," Lucas said of fatigue. "I think more than anything would be the foul trouble and trying to make sure you stay out of foul trouble."
Self elected to play some zone defense against WVU to protect his players and limit the physical toll tough defense takes. He may do that again in this one but, if he does, he expects to see a much better effort in the zone.
"Zones are pretty good if you're active in them," Self said. "But we weren't as active. Our hands weren't high. We weren't flying around like a good zone team would do."
Mega Matchup
KU's top trio vs. Kentucky's top trio
In a showdown between stellar backcourts, it's the talent and experience of Kansas' veteran group led by Mason and Devonte' Graham, and backed by freshman Jackson, against the youth and excitement of Kentucky's Malik Monk, De'Aaron Fox and Isaiah Briscoe.
All six players have enjoyed big time roles in college basketball and been a part of some huge games and great moments. And while there will be other factors that determine which team comes out on top, it's safe to say that whichever trio plays better in the backcourt will be the one that gives its team a terrific chance of winning.
"I think it's a great match-up and it's for different reasons," said Self. "With Briscoe, who I think sometimes doesn't get the attention that he deserves, he's a terrific guard that I know opponents that have played against him know how good he is. But with the two little guys out front, even though Monk and Fox aren't exactly little, going against Mason and Graham, you've got the prototypical experience against youth. The youth is lottery-pick talent, without question, that have shown that they can play at the very highest level, and certainly play at a level that is better on certain days than anybody else in the country has played. Then you got some guys on our side that are pretty consistent and tough, and solid, and have been through a lot of wars together. I think it makes for a great match-up. I think there are other match-ups that will be key, but I think most eyes will be on those four guys."
Jayhawk Pulse
It's been a rough week for the Kansas men's basketball team and the Jayhawks' reward for getting through it is a trip to Kentucky to take on the No. 4 team in the country, which is loaded, as usual, with NBA talent.
Oh, and the Jayhawks will have to do it with a six-man rotation and seldom-used forwards Mitch Lightfoot and Dwight Coleby operating as the seventh and eighth men.
Their importance figures to be directly related to how well the starting five stays out of foul trouble, especially senior forward Lucas.
Given the off-the-court issues dominating this program throughout the week, the general perception is that Kansas is a wounded animal. And, in some ways, that is accurate. But when the ball goes up and the game tips off, the Jayhawks will roll out just as much talent and even more experience than the Wildcats and the pride of players like Mason, Graham and Lucas and the competitive fire of those three along with Jackson and Sviatoslav Mykhailiuk will go a long way toward keeping this game competitive and interesting.
Regardless of the off-the-court circumstances, any time Kansas and Kentucky get together, things are bound to be interesting. Scouts will be in the building, ESPN's College GameDay will be broadcasting live and talk of each team's seeding and postseason chances will be at the forefront of many minds.
And then there are the fan bases, which both figure to be well represented inside Rupp Arena.
Probable Starters
No. 2 Kansas
G – Frank Mason III, 5-11, 190, Sr.
G – Devonte' Graham, 6-2, 185, Jr.
G – Josh Jackson, 6-8, 207, Fr.
G – Sviatoslav Mykhailiuk, 6-8, 205, Jr.
F – Landen Lucas, 6-10, 250, Sr.
No. 4 Kentucky
G – De'Aaron Fox, 6-3, 187, Fr.
G – Malik Monk, 6-3, 200, Fr.
G – Isaiah Briscoe, 6-3, 210, Soph.
F – Wenyen Gabriel, 6-9, 213, Fr.
F – Bam Adebayo, 6-10, 260, Fr.