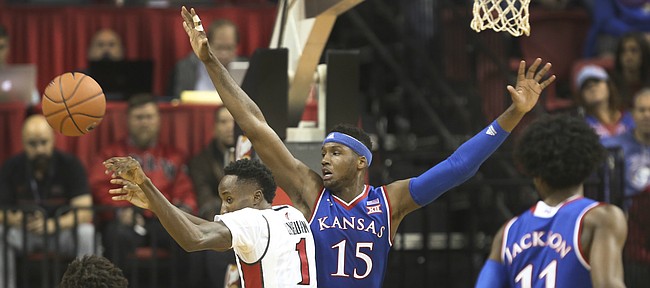 An already bad week for the Kansas men's basketball program got worse Thursday night, when KU coach Bill Self announced that sophomore forward Carlton Bragg Jr. had been suspended indefinitely, effective immediately.
Self said in a news release that Bragg's suspension was not connected to the reported rape at McCarthy Hall in December, the on-campus men's basketball apartment building that opened a year and a half ago.
"Carlton is suspended for a violation of team rules," Self said in a statement. "This violation is not connected to the alleged incident in McCarthy Hall on December 17th."
The suspension is the second slapped on Bragg in the last 50 days and adds another dismal chapter to a sophomore season that has been a far cry from what many expected from the 6-foot-10 Cleveland native who was a McDonald's All-American and five-star recruit coming out of high school.
Bragg's first suspension, which cost him one game, was the result of his involvement in a misdemeanor battery case in early December. He was initially arrested but ultimately cleared of any wrongdoing when a surveillance video surfaced that showed Bragg acted in self-defense.
With Bragg expected to miss this weekend's game at No. 4 Kentucky — 5:15 p.m. Saturday at Rupp Arena in Lexington — and possibly longer, the Jayhawks' already short-handed lineup becomes paper thin.
Since the start of the year, Self had settled in on giving most of the minutes to just seven players. With Bragg and his 6.1 points and 4.8 rebounds in 15 minutes per game being one of those, KU's bench now consists of just one player who has logged consistent minutes this season, sophomore guard Lagerald Vick.
Freshman forward Mitch Lightfoot has operated as the Jayhawks' eighth man during recent weeks, but Lightfoot has played double-digit minutes just one time this season (14 vs. UMKC in early December) and is averaging 4.3 minutes per game in 15 games this season.
Lightfoot's eight minutes on the floor during Tuesday's loss at West Virginia matched his total playing time in the Jayhawks' previous seven games combined.
Lightfoot and junior Dwight Coleby both stand to see an increase in minutes and the possibility exists that the Jayhawks also will look to play more zone defense to protect starting forward Landen Lucas and allow the length of players like Josh Jackson, Svi Mykhailiuk and Vick help them survive on the defensive end.
"We want to play man," Self said earlier Thursday, several hours before announcing Bragg's suspension. "But the reality of it is, with our depth situation and certain things and maybe depending on how they're shooting the ball that day or whatnot, it may dictate that we play some zone."
Asked after Tuesday's loss to WVU how it felt to play extended minutes and how he managed to handle limited playing time so far this season, Lightfoot provided an answer that now rings more true than ever.
"I gotta be ready all the time now and (that) helps me because I've gotta be engaged," he said. "Even in the games I don't play in I'm still engaged, trying to figure out ways to help. I'm just gonna try to do whatever I can when I'm off the court or on the court so when I go in I'm ready."
Lightfoot, a 6-8, 210-pound forward from Gilbert, Arizona, who has shown an abundance of poise and confidence when he has taken the floor, said he had total faith in his head coach to bring him along.
"Like coach says, reps are gonna help me get better and I believe him," Lightfoot said. "He's been here and done this before and he knows way more about it than I do. So I'm just gonna trust him. He knows best. And when I'm out there I'm gonna give it everything I've got for us to win — rebounding, defending, whatever he needs."
More like this story on KUsports.com