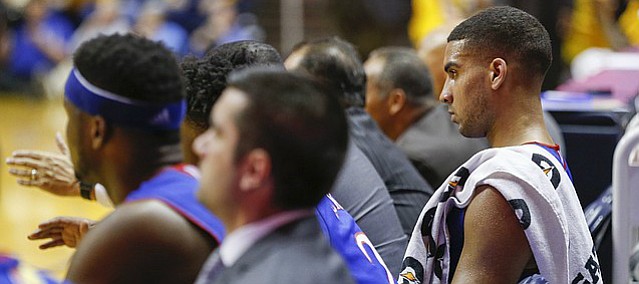 Morgantown, W.Va. — A three-point halftime lead on Tuesday night at WVU Coliseum turned quickly into a nine-point edge for the home team after West Virginia scored on five consecutive layups to start the second half, the perfect snapshot of an area that No. 2 Kansas made way too easy during an 85-69 loss to the 18th-ranked Mountaineers.
"That can't happen," senior forward Landen Lucas said of WVU's layup clinic. "We've gotta make it a little bit tougher and make them earn their baskets a little more.... We got exposed on some areas tonight and we've gotta fix those."
The setback was the fourth straight for Kansas in Morgantown and the team's first loss this season since falling to Indiana in the season opener in Honolulu.
Neither team got out to a particularly strong start, with Kansas showing signs of weakness against that vaunted WVU press and the Mountaineers struggling to get a bucket from everyone not named Esa Ahmad.
Photo Gallery
Kansas Basketball v. West Virginia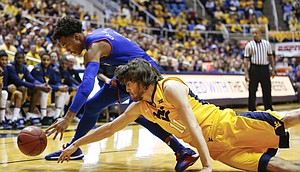 View a gallery of images from Tuesday night's game between the Jayhawks and Mountaineers at WVU Coliseum.
The sophomore from Cleveland made his first three shots — a dunk, an and-one and a deep jumper — and accounted for the Mountaineers' first eight points en route to a career-high 27 points on 10-of-17 shooting.
West Virginia (16-4 overall, 5-3 Big 12) outscored Kansas (18-2, 7-1) 34-20 in the paint and limited the Jayhawks to just 42 percent shooting from the floor and 40 percent (6-of-15) from the free throw line.
"We didn't play poorly for the first 30 (minutes) or whatever, but, obviously, we closed miserably and they dominated us late," said KU coach Bill Self before sarcastically adding, "Our free throw defense wasn't very good and theirs was much better."
Tuesday's showdown was a game of runs, with Kansas hitting the Mountaineers (16-4 overall, 5-3 Big 12) with a couple of first-half runs only to watch the home team answer every time. The biggest WVU run might've been the 12-4 run they used to close the first half, which set the stage for 47-34 beat down in the second half.
Freshman Josh Jackson led the Jayhawks (18-2, 7-1) with 22 points while Devonte' Graham (17) and Frank Mason III (15) also reached double figures. Outside of that, Kansas got just 15 points in 93 combined minutes from the six other players who checked into Tuesday's game.
"I think that their freshness and our fatigue also played a factor down the stretch," Self said.
Despite allowing the Mountaineers to dictate much of the game on both ends, Kansas used an 11-1 run to take a 59-58 lead with 9:52 to play. However, that lead lasted all of 43 seconds and Kansas never led again.
"We made a couple turnovers, took a couple bad shots," said Jackson, explaining the collapse. "We just have to understand when we go on a run like that, and we've got 'em down after fighting so hard, we just have to make smart plays because the way they play they can easily go on a run at any time."
West Virginia entered the night leading the NCAA with 23.2 turnovers forced per game but managed to coerce Kansas into just 13. While that number was one the Jayhawks would have taken heading into the game, the total attached to it — 19 points off turnovers — haunted the Jayhawks after the loss.
"I would've taken it probably coming in," Self said. "But the turnovers that we had were bad turnovers.... If you look at the stats, you're saying, 'Yeah, that's not awful,' but that doesn't tell the story. They were pretty poor turnovers."
Still fighting and looking to make one final run to steal a victory, Kansas closed the game by clearing the runway for several more easy West Virginia buckets.
With KU trailing by seven with 4:03 to play, a Jackson deflection sent WVU scrambling. Junior guard Jevon Carter (9 points, 9 assists, 8 rebounds) flipped it to Daxter Miles Jr., who looked to be in trouble in the deep corner in front of the West Virginia bench. Instead of sitting and waiting for the KU double-team to arrive, Miles attacked, slipped right between a flat-footed Jackson and Svi Mykhailiuk and got to the rim for yet another WVU layup.
On the very next possession, after another mindless miscue by the Jayhawks, WVU big man Sagaba Konate caught a soft, trailing pass from Carter and capped a four-on-one WVU break with a monster slam that gave the Mountaineers their largest lead of the night to that point, 74-63 with just over three minutes to play.
A minute-and-a-half later, from the very spot where he was nearly trapped, Miles' wide-open 3-pointer proved to be the final blow in the Jayhawks' second loss of the season.
Cue John Denver. Clear the aisles for the court-storming, which, somewhat surprisingly, never came.
After back-to-back losses, including one in the state of Kansas last weekend, those country roads led the Mountaineers home and there wasn't a gold-and-blue clad soul in the building not singing at the top of their lungs.
"I don't think we've played exceptionally well here," Self said. "But I think that West Virginia has a good team. When they're turned up, which they were tonight, they're certainly one of the best teams in the country."
— See what people were saying about the game during KUsports.com's live coverage.
---
More news and notes from Kansas vs. West Virginia
---