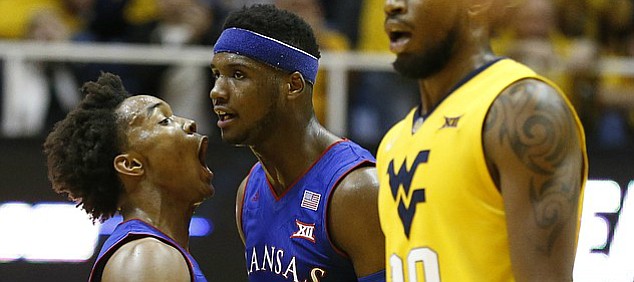 Morgantown, W.Va. — West Virginia's unencumbered procession to the hoop for easy buckets in Tuesday's 85-69 bullying of Kansas at packed WVU Coliseum might have had a little to do with the same players' procession to the treadmill in the wake of consecutive losses to Oklahoma and Kansas State.
It made the Mountaineers a highly motivated, dangerous opponent, all right, but the easy buckets had plenty to do with KU's lack of defensive help for center Landen Lucas, who can't do it all alone under the hoop.
Carlton Bragg Jr. needs to give so much more than he again gave in a loss that ended an 18-game winning streak. One leg into an eight-game stretch that features five contests against ranked opponents, Bragg remained the biggest surprise on the team, and not in a good way.
Photo Gallery
Kansas Basketball v. West Virginia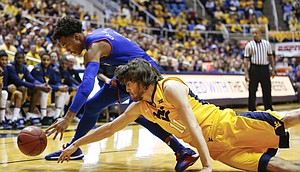 View a gallery of images from Tuesday night's game between the Jayhawks and Mountaineers at WVU Coliseum.
He gets in foul trouble quickly and tends to stay there. Physical skills that should translate to strong rebounding seldom do. This is a surprise isn't it? It's not just me, is it?
"I'm a little surprised, just because of his talent, but I also know he's right there," Lucas said. "I mean, we see it in practice. We see flashes in games. He's always in the right spot at the right time with the right mind-set. It's just not 100 percent coming together, but he's making strides. He's better now than he was a couple of games ago and you just have to understand each game is another step forward. Obviously, we could use him for many reasons."
Such as rebounding, where West Virginia had a 39-32 advantage, points in the paint, where West Virginia dominated, 34-20, and bench points, where the Mountaineers outscored KU, 21-7.
"If he goes out there and worries about the defense and the rebounding, the rest will come," Lucas predicted. "He's such an offensive talent that he's able to do some things. He's just got to be able to do the things that coach is looking for to be able to stay on the court."
Bragg's announcement that he was coming to Kansas was greeted with such glee by Jayhawk Nation that it was not held against him that he nervously said "Kentucky," his second choice, and then quickly corrected himself when he made the announcement.
Tuesday's game showed the inexact nature of recruiting in that the star of the game, West Virginia's 6-foot-8, 225-pound sophomore Esa Ahmad scored 27 points, Bragg two points with one rebound and four personal fouls in 11 minutes.
Both forwards played their high school basketball in Cleveland.
Ahmad was a four-star recruit ranked No. 72 in nation by Rivals.com and offered a scholarship by several Big Ten schools, plus Oregon and Xavier.
Ahmad didn't receive the invitation to play in the McDonald's All-American game that Bragg did, but Ahmad, twice named player of the year by Cleveland.com, made more of an impression on local observers.
As a freshman, he averaged 4.9 points and 2.7 rebounds in 18.1 minutes.
He has made the big step forward as a sophomore that Kansas needs from Bragg.
Not that it's been all forward steps for Ahmad, who leads West Virginia in scoring with 12.1 points per game. He was mired in a four-game slump heading into Tuesday, averaging just 5.3 points during that stretch.
Ahmad said that he was guilty of playing "passive" basketball during his slump and was urged by teammates and coaches to play more aggressively, especially against Kansas because his greatest strength, taking it to the rim, matches up with KU's greatest weakness, protecting it.
The Mountaineers ran the first play of the game for him and he scored the team's first eight points.
"He had two good days of practice," Huggins said. "And he's our best guy at attacking the rim. He has more size. He's wider. He has those huge hands."
His fingerprints were all over the game, something Bragg hasn't figured out how to do yet.
Huggins mentioned something else he thought was the key to Ahmad breaking out.
"He kind of rededicated himself to the game after Kansas State," Huggins said. "He wasn't very good in the Kansas State game, wasn't very good in the Oklahoma game. He got in the gym. I know you guys get tired of me saying that, but he got in the gym. He was in the gym last night at 9 o'clock, after being in early before practice and staying after practice. That's kind of what it takes."
Ahmad did much of his damage when guarded by KU freshman Josh Jackson, who led his team with 22 points. Jackson thus far this season has provided the most interior defensive help for Lucas. It's not enough. Bragg will need to find a path to improvement for Kansas to avoid more road losses that involve such smooth roads to the hoop for opponents.
— See what people were saying about the game during KUsports.com's live coverage.
---
More news and notes from Kansas vs. West Virginia
---